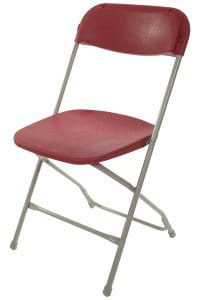 Samsonite Folding Chairs. Poly Folding Chairs. Plastic Folding Chairs. Whatever you want to call them, Plastic Folding Chairs are a universal product for event rental/party rental companies. Everyone has them. They may be white on white, black on black, brown on tan, or any number of other colour combinations, but everyone has them. They are the chairs most commonly rented for events and are the most cost-effective rental seating option out there. Unfortunately, they aren't known for being the strongest chair in the marketplace. And buying plastic folding chairs based on price can lead to embarrassing failures as the cheaper materials aren't strong enough to hold society's expanding waistlines.
We get asked a lot of question by new and existing customers when they're looking at our products. One of the questions we frequently get asked is how much weight our chairs will support. NES Reliable Plastic Folding Chairs are have been tested by BIFMA (Business and Institutional Furniture Manufacturer's Association) and have passed a six inch drop test at 225lbs. For this test BIFMA takes a 225lbs weight, suspends it 6 inches above the seat, and then drops it. This is useful information to know, but many of our customers and potential customers want to know if that means the chair will collapse if a 250lbs person sits down.
We've decided to take writer's axiom that it's better to show your audience something than to tell them about it and modernize it for the digital age. Dennis and Jonathan went into our warehouse and made a video starring a Black on Black NES Reliable Plastic Folding Chair and a pallet of 20kg bags of road salt. Behold the fruit of their labours!