We're constantly looking for new items to add to our inventory that will compliment the events our customers put on.
On our last buying trip we came across some fantastic porcelain serving pieces that we believe will compliment the events of our catering and party rental clients and even some pieces for restaurants.


The first piece is the new 4.75" straight sloped bowl. This bowl is perfect for restaurants to serve fries, crudités, or even a small tapas dish. The bowl has a wholesale price of $3.50, is dishwasher safe, microwave safe and oven safe to 400F.

The second piece is the new 13.125" flat pizza plate. This porcelain round pizza plate can be used as its name suggests as a pizza plate at a restaurant or at a catered passed hors d'oeuvres event as a platter. The flat pizza plate has a wholesale price of $12.95. Like the latter, this porcelain flat round platter is microwave safe, dishwasher safe and oven safe to 400F.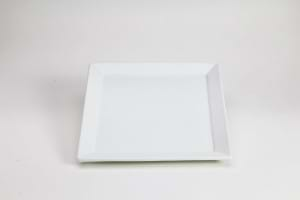 The last piece is an addition to our Quadrato porcelain dinnerware collection - the 11.125" square plate. This square plate is another option for an oversize plate should a 12" square plate be too large for your event. The 11.125" square plate has a wholesale price of $8.95, is oven safe to 400F, microwave safe and dishwasher safe.
These items will be available on the ecommerce portion of the website shortly as a self-serve buying option - however, if you have any questions or want a quote on any of these new items sooner they're in stock and ready to ship, so feel free to contact us here.