We've just received our second container of Resin Chiavari Chairs and are in the process of unloading them. When we receive a container of product in the dock everything slows as we try to unload product as quickly as we can. Today is no exception.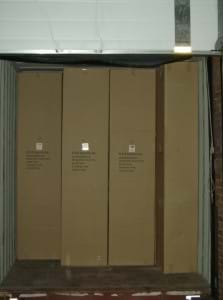 So what happens at National Event Supply when we are scheduled to receive a container of Resin Chiavari Chairs? Just after we open, a truck with our container will begin backing into our loading dock. After we've confirmed that the numbers on the container and on the shipping seal match the numbers we received from our factory, the driver will cut off the seal and open the doors. He then backs the container into our dock, disconnects his rig and heads back to the yard so he can deliver another container to someone else.
As you can see from the first picture, we pack the container as full of product as we can. In the case of the Resin Chiavari Chairs, there are 100 boxes on the container. Each box is 104" tall and holds 10 Chiavari Chairs, and as many as 17 Chiavari Chair Cushions. This allows us to import 1000 Resin Chiavari Chairs on a container, and reduce our per unit shipping cost. This translates into lower prices on the chairs for you, our customers.
As they unload the container, our warehouse team keeps track of how many cases they unload. On this container, we brought in four different colours of Resin Chiavari Chairs, and we need to be sure that we have received what we were supposed to. Once the container has been unloaded and swept out, it's time for the warehouse team to start prepping the Chiavari Chairs for shipment to our customers.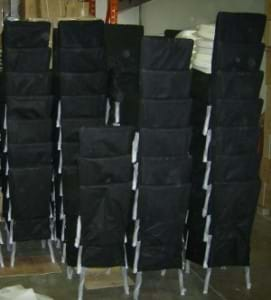 The next thing the warehouse team needs to do is break down the boxes, and stack the chairs for shipping. This is necessary because the 104" boxes will not fit inside a trailer that has only 96" of clearance. It's also at this point that the warehouse team begins sorting the cushions by colour and material and counting them as they are put away. This is the part of the process that takes the most time as we have to open every box, remove all the cushions, and then restack the chairs into stacks of seven. Why seven, you ask? Seven is the highest we can stack the chairs on a pallet and still be able to ship them across Canada.
Here are some stacks of Mahogany Resin Chiavari Chairs ready for shipment. They're all wrapped up in foam wrapping, and in this case covered with our NES Chiavari Chair Storage Covers for extra protection. A little later today, when the container has been removed from the dock, a truck will come and take them to their new home in Southwest Ontario.