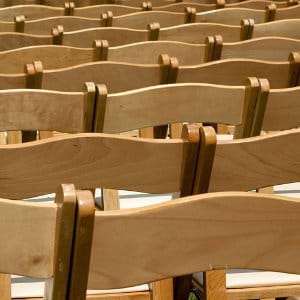 We are the first to admit that no product is perfect but the product is perfect for your needs. What one company may hate, another company is in love with – especially in the events industry. Some party rental companies swear only by wood folding chairs while others swear only by resin folding chairs. What we like to do is educate and inform our prospects and customers of the pros and cons of products so they know exactly what type of product they're dealing with before purchasing.
Event Chairs and Banquet tables can be quite a large purchase so we want to make sure our customers are able to choose the right product for their business. We've previously talked about the problems that exist with white resin folding chairs. Today's post deals with the problems associated with Wood Folding Chairs.
1. Scratches show easily
Because wood folding chairs are made of pale wood and stained or painted to finish, event rental wear and tear by guests or transport can cause scratches to occur to the chair. Resin folding chairs don't have the same problem as their colour is solid to the core. Some event rental companies prefer a wood folding chair though as wear and tear can be sanded and re-finished with a little work. Because of the nature of the material used, more general maintenance is required.
2. Don't self-lock in place when stacked
Resin folding chairs are manufactured so that when they are stacked on top of one another they lock in place preventing movement. Wood folding chairs aren't manufactured the same way and because of this don't have the ability to lock in place when stacked on a chair cart. This can be rectified by a party rental company buying one or two ratcheting tie downs similar to this one from a home improvement store.
3. Can't be left to the elements for long periods of time
Because the chairs are made of wood, they're more susceptible to water damage, cracking and peeling than resin folding chairs. Pick up of the chairs needs to occur as soon after the event is finished to avoid any weather issues. Also if you don't have dry indoor storage to store these chairs, you shouldn't consider purchasing wood folding chairs.
Hopefully this post provides you with an idea of the issues you can expect with wood folding chairs.