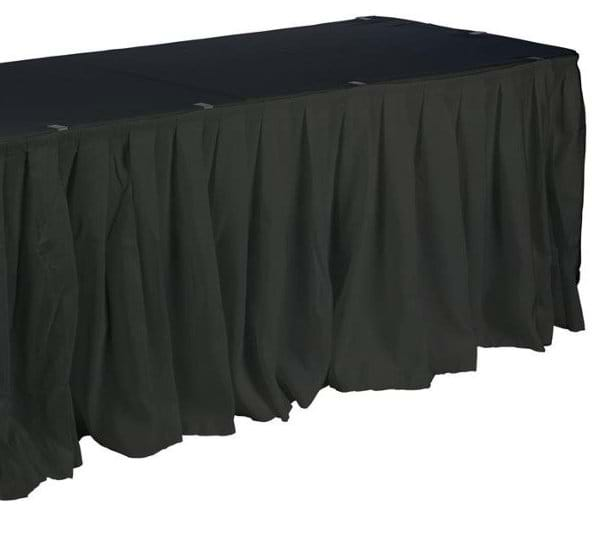 Table skirts are a staple for almost all tradeshows, banquet halls / event venues, hotels, golf courses and party rental companies. They work well for all registration desks, coat checks, exhibitor booths, buffet stations etc. If you've already been buying table skirts then this post isn't really for you – unless you're not happy with your original supplier. If you're in the market to purchase table skirts, one of the most common things asked is where to buy table skirts in Canada? This post will round up 5 other suppliers besides National Event Supply, who also sell table skirts in Canada.
1. Textilehouse Canada
Based in Richmond Hill, Ontario, Textilehouse Canada is a supplier of premium chair covers, table overlays, and other event linens in Canada. They also can work on custom-made products upon request.
2. Displays2Go.ca
Based in Rhode Island, Displays 2 go recently created a Canadian website to service Canada. Shipments still come from the US but pricing is all based in Canadian dollars. Displays2go.ca has the largest inventory that I know of tradeshow and display related products.
3. Canadian Hotel Supply
With several American locations, Canadian Hotel Supply is owned by American Hotel Register co, and co-leases warehouse space in Toronto and Vancouver to offer hotels, restaurants and other companies with table linens, table skirts and other foodservice & hospitality supplies.
4. Linen Tablecloth
While they are based in the United States, LinenTablecloth has a Canadian ecommerce site that allows event venues and others purchasing table skirts direct from their website. Shipping is out of Memphis, Tennessee and they will pay brokerage and duties associated with linens crossing the United States/Canada border (often a surprise cost associated with shipping linens from the US).
5. Sysco Guest Supply
Owned by foodservice giant Sysco, Sysco Guest Supply focuses on the hospitality sector only offering guest amenities, textiles and housekeeping products. No pricing or product selection is available online however they mention they have a wide array of colours and sizes of tablecloths and napkins which includes table skirts.
Hopefully one of these companies (if not us!) can help you find the table skirts you need.