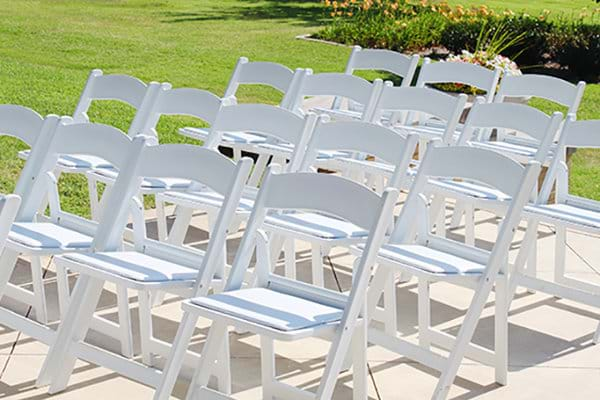 White resin folding chairs have been by far one of our bestselling chairs over 2014 with no signs of stopping in the year ahead. The best kind of purchase though is knowing exactly what you're getting with the product – and that includes the problems that may arise. It makes sense to know what problems may arise in a product so you're able to determine what you're willing to live with and what you're not. Here are the problems with white resin folding chairs and solutions:
1. Screw hole caps can be lost
White resin folding chairs have screw caps that hide the screw holes. Sometimes these screw caps after high turnover, can become loose and tend to fall out either at the event venue or in transit to or from your storage location. Solution: New replacement screw caps can be purchased in lots of 100. We have heard of rental companies putting a little glue in the hole before putting the new screw cap on as well – to ensure it doesn't get lost.
2. Scuff marks can occur
With white furniture in general, you're going to get maintenance issues that require solving on an ongoing basis. Add to that, you're a rental company or event venue who turnover a large amount of events a year and you have the potential for a lot of scuff marks to occur. This generally happens when guests put their feet on the legs, accidently brush the seat in front of them as they cross their legs etc. Solution: Magic Eraser has been shown to remove most if not all scuff marks.
3. Yellowing can occur after years of extensive outdoor use
We were under the impression that our white resin folding chairs wouldn't yellow due to UV exposure and had that on our website. Our factory repeatedly assured us of this. And we didn't have any complaints (that we knew of) in the 9 years the current owners have owned the business. But it turns out we were wrong. Last year we received some great feedback from a party rental company out in Western Canada who let us know that the chairs he had purchased in 2006 had begun to yellow. He was in the market for new chairs anyways as 8+ years of high rental turnover can make a white resin folding chair look a little worse for wear. It was great receiving this feedback so that we can set expectations for other customer's or potential customers about our product while working with our factory to better the product. Solution: Keep white resin folding chairs in indoor, heated storage only free of elements to lengthen product colour and be prepared for the possibility of having to do a chair replacement after 8 years.
4. Deep scratches in resin can occur
Because resin is a highly durable product, it does hold up extremely well to nicks and scratches. That being said it is not perfect and can become susceptible to deeper scratches due to the high turnover of the product. Due to the nature of resin, it can't be easily fixed once a scratch can occur (which is why some party rental companies prefer wooden folding chairs over resin folding chairs). Solution: Always use the proper chair dollies to transport, ensure all chairs and dollies are locked down from movement when in transit and train employees to handle the chairs with care. Alternative solution is to purchase new chairs when existing chairs are becoming well worn.
If you're interested in a quote on our white resin folding chairs including shipping to your location