Infrequently Asked Questions
There are questions that we get asked daily, like "Where are you located?" and "How can I pay for my order?" Then there are the Infrequently Asked Questions. These are questions that we hadn't thought about until we were asked the first time. They are questions that can require a little digging or asking around to get a satisfactory answer. They are questions that we'll try to answer in our blog, so that we can share our knowledge.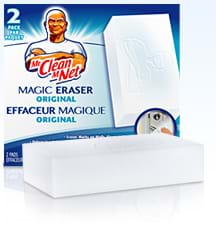 Getting new tables and chairs can be quite exciting for our customers. There's nothing quite like getting new stuff. Everything is so clean; so perfect. Then the chairs get rented out for a month or two and scuff marks and grime start showing up on your formerly new chairs. It's at this point we frequently get asked about the best way to keep NES Reliable Wedding-Style Resin Folding Chairs looking like new. Our recommendation? Mr. Clean Magic Erasers!
We've had numerous customers who swear that the Magic Erasers keep their chairs looking like new. They just follow the directions on the package (make sure you wear those gloves!) and the Mr. Clean Magic Erasers clean away any grime or scuff marks and have the chairs looking as good as new.
If you have any tips or tricks or questions, drop us a line or leave us a comment!