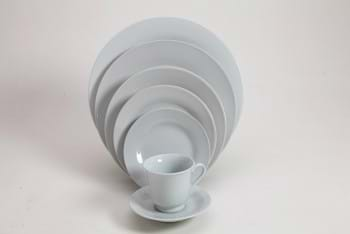 Our Pearl White Dinnerware line has always been our lowest priced white dinnerware line but we weren't completely happy with the consistency and quality our manufacturer was producing. For those who are new to this blog or our company, consistency of the product and quality of the product is something we constantly strive for. Some would say we can be a little fanatic about it – stress testing our folding tables and event chairs to ensure they are a high quality.
Our customers are some of the biggest and most well-known party rental companies in Canada so we understand the need for porcelain plates that the rental customer will be happy with while also holding up over time allowing for a recoup and potential profit on a rental company's initial investment. But our original manufacturer of Pearl White Dinnerware wasn't holding up to our standards of quality – so we went looking for another manufacturer that could meet them.
I'm pleased to announce we've found another manufacturer that, based on our due diligence, should allow us to offer Pearl White dinnerware to our customers without the flaws that existed previously. What our customers should expect moving forwards is a great value, low cost dinnerware line that allows them to offer their customers white dinnerware to rent for their events.
And I'm also pleased to announce that we're back in stock on all of the Pearl White Dinnerware set:
10.25" white round dinner plates – Wholesale Price: $1.80 each
9" white round salad plates – Wholesale Price: $1.15 each
7.5" dessert plates – Wholesale Price: $1.05 each
6" side plates – Wholesale Price: $1.00 each
Rim Soup Plates – Wholesale Price: $1.75 each
6" Bowls – Wholesale Price: $1.00 each
Soup Plate – Wholesale Price: $1.75 each
Can Cup and Saucers – Wholesale Price: $1.50 a set
Bell Cup and Saucers – Wholesale Price: $1.50 a set
Should you wish to receive a quote for the Pearl White Dinnerware collection including shipping to the location of your choice: