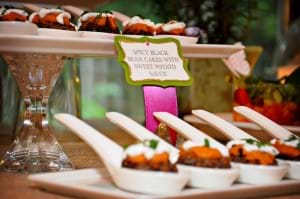 Picture courtesy of Frog Prince Paperie
As a caterer or restaurant, appetizer spoons, also known as porcelain Chinese soup spoons or wonton spoons, are a fantastic way to showcase bite-sized appetizers on your menu. It is a low cost, high impact way to impress your customers. Even better than a paid appetizer is offering an amuse bouche as a value-add to really knock your customers' socks off. If you're starting to think about offering this at your restaurant, or just need an aesthetically pleasing way to showcase your food, you're probably wondering how much appetizer spoons cost in Canada. We've rounded up the average cost of how much appetizer spoons cost in Canada to answer this question for you – so read on!
Appetizer spoons will vary in cost depending on a few factors – shipping, volume (i.e. how many you are ordering), and the material of the product. Appetizer spoons can either be porcelain in material or melamine. I've seen both and it's really a matter of personal preference as both are safe for food use. Melamine will naturally be slightly less weight than porcelain but porcelain can hold food at a cold or hot temperature for longer periods. Porcelain appetizer spoons range in cost from $0.60 to $3.82 each without taxes or shipping. Melamine appetizer spoons range in cost from $0.73 to $2.22 each spoon without taxes or shipping.
Shipping for either porcelain or melamine appetizer spoons would be fairly minimal. As an example, shipping 50 wonton spoons from Toronto, ON to Vancouver, BC would add less than $0.50 per spoon for shipping.
Hopefully this helps you figure out the budget you should be looking in when sourcing appetizer spoons for your restaurant. Let us know below or through our contact form if you have any questions!