Happy Belated Father's Day to all you dads out there. I don't know about you, but I spent Father's day in a restaurant in the company of friends as my family is scattered all over the country. The restaurant we were at was following a trend which we've noticed at National Event Supply: Rectangular Dinner Plates. A 7"x14" Platter makes the perfect plate for a burger or sandwich and fries. This is a trend that we can see continuing for quite a while.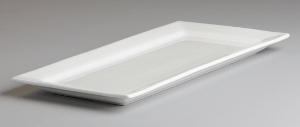 Our Rectangular 7"x14" platters are just one of the items that are back in stock as of this morning when our shipping team unloaded our container of porcelain. This is one of the more difficult containers for our shipping team as there are hundreds of heavy boxes filled with breakable items packed into the container in no discernable order. By the time they get all the boxes onto the proper pallets, and then put the pallets away in the warehouse, they're ready for a break.
Our sales team has started calling customers that have porcelain back orders to let them know that we can fill their orders starting today. If you've been waiting for porcelain platters, bowls, or dinnerware now is the time to let us know. Our sales team would be happy to put together a quote for any items that you are interested in. In addition, if you're interested in seeing a sample of our commercial grade porcelain, we'd be happy to send you a free sample of our Hotelier Dinnerware.
We've got two more containers coming in this week for sure. One will add some chairs to our inventory to help us make it through the summer, while the other contains Plastic Folding Tables. It's going to be a busy week here at National Event Supply!