Earlier this spring, we introduced our brand new Mahogany Resin Folding Chair. It's a gorgeous chair with a removable black vinyl padded seat, and deep reddish brown frame. It commands your attention in a way that our white or black resin folding chairs don't. But make no mistake, it's as strong as its white and black counterparts. But the Mahogany Resin Folding Chair was not the only chair that we hoped to introduce this spring.
For some time now, we have been looking for a natural wood coloured resin folding chair. Unfortunately, it's difficult to create a beautiful looking natural wood colour chair in resin. The colours just don't look right, and it can end up looking tacky and not up to our demanding standards. But our customers were demanding a Natural Wood Coloured Folding Chair, and so we decided that the only thing to do was to go and find a Natural Wood Folding Chair. It took a little time to find one we liked, but early last winter we found one.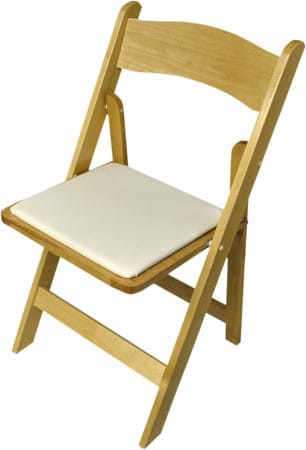 Today, I'm happy to formally announce our New NES Natural Wood Folding Chair. Just like our resin folding chairs, NES Natural Wood Folding Chairs are excellent event chairs, perfect for outdoor weddings of garden parties. With their removable, padded, white seats, NES Natural Wood Folding Chairs will provide a traditional feel to your even whether it is outdoors or indoors.
These outdoor event chairs are much lighter than our heavy-duty resin folding chairs, but they are still a commercial grade chair. The chairs are held together with steel mounting hardware and glue for added strength, and the padded seat features a wood base for added strength.
NES Natural Wood Folding Chairs are a snap to set-up or take down, and fit perfectly on our NES Folding Chair Carts. These chairs are also a breeze to clean—just a quick wipe with a cloth will clean most spills of the clear-coated wood. We've currently got these chairs on back-order, with arrival expected for mid-June. We will be initially stocking these chairs in Toronto, and we'll be introducing them at $27.95/ea.