When we put together our Table and Chair Catalogue it was a huge undertaking. We spent the better part of 2011 taking pictures of all of our products and cleaning up the pictures for publication. We wrote copy for the catalogue, describing our outstanding products, and providing reasons for you, the customer, to purchase our fine wares. We learned a lot of software, and spent time looking for companies to print our first stab at a catalogue. When the catalogue came out we were thrilled. We finally had something we could put into the hands of customers and potential customers.
And then, shortly after we received the catalogues, they started going out of date. We started adding to our product lines, expanding our offerings. There were new folding chairs, new folding tables, new chair carts, and new dollies. We had expanded our product lines, offering chairs in new colours. There were new cushions for our resin chiavari chairs, and a blow-mold stacking chair too.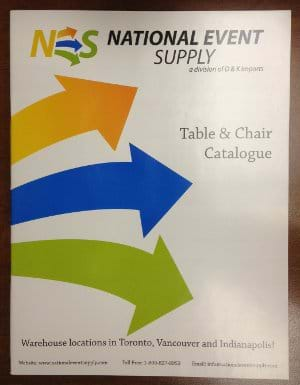 Luckily, in mid 2012, Stephanie joined our team and we put her to work revising our table and chair catalogue. She added the new products we already had in our warehouse and included products that we were expecting for spring 2013. Stephanie worked hard on the 2013 Table and Chair catalogue, and now I'm pleased to announce that the 2013 Table and Chair Catalogue is available!
This 28 page catalogue contains all the products that we are offering in our Toronto, Vancouver, and Indianapolis Warehouses. It includes all of our plastic folding tables, our wood folding tables, our plastic folding cocktail tables, and our wood cruiser tables. You'll find information about our Plastic Folding Chairs, learn about our resin chiavari chairs, and be the first to see our NEW Folding Pedestal Tables.
Now that the 2013 Table and Chair Catalogue is complete, Stephanie has begun working on putting together our 2013 Tabletop Catalogue and hopes to have it finished shortly. She is also putting together a 2013 French Catalogue which we hope will be later this spring. If you interested in receiving one of our new 2013 Table and Chair Catalogues, please fill out this form and we'll have one sent out to you as quickly as possible. If you have any questions about any of our products, or would like to talk to one of our sales reps, please don't hesitate to contact us. We're always happy to help with all of your needs!