The National Event Supply trade show team just got back from BC where we were exhibiting at the CRA BC Regional show which took place at the Cloverdale Rodeo Show Barn. The show took place over two days running from 4pm to 9pm on Friday and from 10am to 3pm on Saturday. We had a substantially larger booth than last year which took Jonathan, Tony and myself a good part of the day to get set up. This year the show had a section of the hall set aside exclusively for the Party and Event side of the rental business, a rare occurrence for a regional show like this.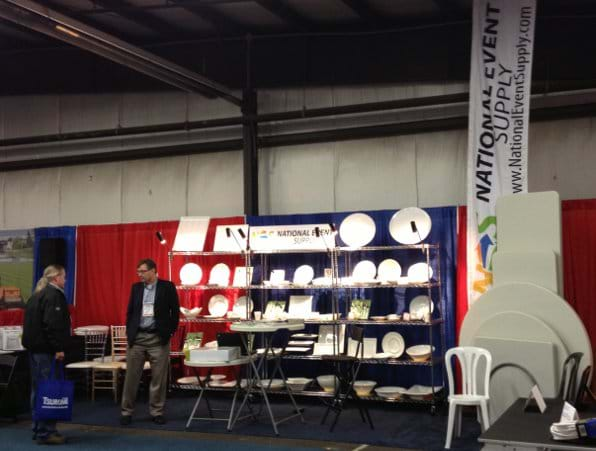 In the Party and Events section, Impact Canopies showed off their Sky Flags and Branded pop-up tents, LB White and Patron Heaters had a section dedicated to tent heaters, Wacker Nueson displayed one of their Generators and AE Sales had their Granite Industries Staging Solution. We rounded out the Party and Event section with a large display including our porcelain dinnerware, cutlery, glassware, chiavari chairs, black and white resin folding chairs, bistro chairs, and of course our always popular plastic folding tables, wood folding tables, and plastic folding chairs. With the expanded booth we were able to show most of our lines of porcelain including our always popular Quadrato Square dishes, our Ovali dish line and our new Polar White dinnerware line. We were also able to show a number of new items including several sizes of wing bowls, sloped bowls, and cappuccino cups. Based on the feedback we received, many of the attendees were pleased with our wide range of rental ready products.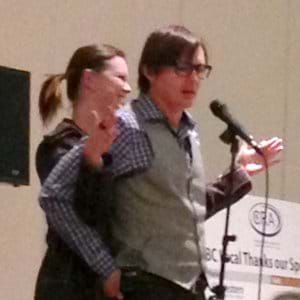 As part of our show promotion, we gave away a NES Reliable Tall Plastic Folding Cocktail table to all the attendees that brought us one of the post cards we had mailed out in advance of the show. You could tell many were extremely pleased to be able to get a free NES Reliable Tall Plastic Folding Cocktail Table and take it home with them right from our booth.
After the show we headed back to the Coast Hotel and Cascades Casino for an evening of fun and festivities. The hotel put on a fabulous buffet spread including some of the best Roast Beef I have had in quite some time. Jim Clipperton of Nor-Val Rentals was our MC for the night and the food was so good it got an applause from the crowd. After dinner we were entertained by a comedian (Roman) who was very funny. As you can see from the picture to the right, Roman brought up Cat Bischke of Cardinal Rentals and did a bite where Cat is pretending her hands are Romans'. As you can tell from the picture she is being a good sport and laughing along with the crowd at their combined antics.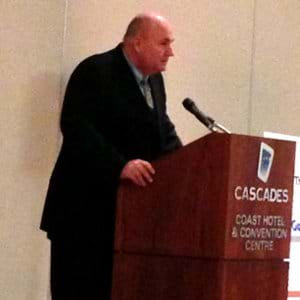 After dinner there were a few brief speeches from Jeff Campbell who is the incoming CRA National President (of St. Thomas Rent-All) and Paul Kenyon, the ARA Region 10 representative (Absolute Tent and Event Rentals). As always the BC Regional CRA put together a fantastic event that is always great to be a part of. We look forward to seeing many of them at the show next year as well as at The Rental Show in Las Vegas in February.
We're back in Vancouver in less than 2 weeks for the BC Foodservice Expo which will be taking place at the Vancouver Convention Centre. But before we head back west, we're doing the CRA Ontario Tabletop Show which takes place January 19, 2013 at the Nottawasaga Resort in Alliston, Ontario. We are looking forward to seeing our Ontario Rental customers and relaxing with a beer after the show.