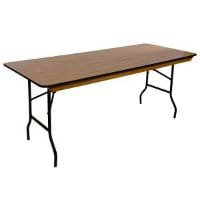 Over the past few years we have seen increasing success with our NES Wood Folding Tables. As it is with most things, sales started slowly as people initially discovered that we had started stocking plywood folding tables. Sales continued increasing as people took a closer look at our product and discovered that we were selling a quality plywood table. As sales increased, we started getting requests from customers looking for plywood tables in other sizes. Up until recently, we were stocking 3/4" inch plywood folding tables in the following sizes in our Toronto, Vancouver, and Indianapolis warehouses:
4-ft Rectangular Banquet Tables (30 inches wide)
6-ft Rectangular Banquet Tables (30 inches wide)
6-ft Rectangular Banquet Tables (30 inches wide)
48 inch Round Tables
60 inch Round Tables
72 inch Round Tables
Now, just in time for the busy spring season, we are pleased to announce that we have added a wide range of new wood tables to our inventory. Effective immediately, we are proud to offer the following plywood tables to our customers:
8ft x 42 inch Folding Harvest Tables
8ft x 18 inch Folding Training Tables
60 inch Half Moon Folding Tables
5ft Serpentine Tables (5ft inner diameter; 10ft outer diameter)
Bar Topper for 5ft Serpentine Tables (15 inches wide)
Just like all of our other plywood folding tables, our new tables feature 3/4 inch plywood that is up to 13 layers thick; grey, powder-coated, wishbone folding legs that are bolted through the tabletop for added durability; support rails bolted through the table top for added strength and PVC vinyl edging. Bull nosed aluminum edging is also available on a special order basis. With the exception of the 8ft Training tables, all items are available in both Vancouver and Toronto. The 8ft Training tables are currently only available in Toronto.
After taking a look at our new tables after they arrived, the new table that we're most impressed with is our new 8ft x42 inch Folding Plywood Table. In some parts of the country this style of table is called a Harvest Table, but our tables are a durable plywood construction rather than a stressed oak construction. With 8ft Wood Banquet Tables, the 30 inch width can restrict the range of centerpieces that can be placed along the center of the tables by wedding and special event planners. The 42 inch width of our new folding tables allow for bigger centerpieces and makes family-style means more enjoyable. The additional width of the table requires that additional support is added. To that end we've boxes the supports on the underside of the table.
In addition to the round and rectangular tables that we are stocking in all three of our warehouses, we also stock bar-height tables in our Toronto warehouse. Otherwise known as cocktail, pedestal, or cruiser tables , these tables feature a ¾ inch plywood top, a long (or short) chrome pole, and a 4-legged pedestal style table base. Currently, we are stocking 24 inch, 30 inch, and 36 inch round tabletops and 24 inch, 30 inch and 36 inch square tabletops. The tables are available as a package including your choice of tabletop and your choice of chrome pole. In addition, the pieces of the table can be purchased individually to allow you greater flexibility.
If you'd like more information about any of our wood tables, or if you're interested in receiving a quote, please don't hesitate to contact us!