The Alberta Foodservice Expo kicked off at 11am on Sunday and there was a steady flow of visitors to our booth along with the many cooking activities on the main culinary stage.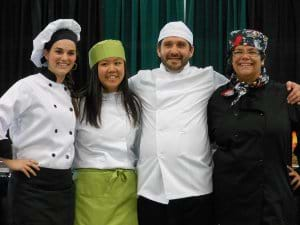 Shortly after the show opening, Richard Toll, the Owner/Executive Chef of ASNA Cooks, stopped by to introduce himself. Richard is actively involved in the Edmonton and Alberta Culinary scene, and on Sunday was one of the judges for the culinary competitions taking place centre stage, right in front of our booth. Richard was also the winner of the Edmonton Iron Chef Competition back in April 2012. We gave him a quick preview of our porcelain products including our very popular Quadrato Dinnerware, our heavy-duty Hotelier Dinnerware, and our extensive range of porcelain platters and bowls. He was also quite interested in some of our 18/10 stainless steel cutlery lines. Richard was excited to discover the possibilities National Event Supply provides to dramatically reduce his porcelain and cutlery purchasing costs. We saw Richard later on when he modelled some new chef uniforms in the fashion show that was sponsored by Canadian Linen & Uniform Service.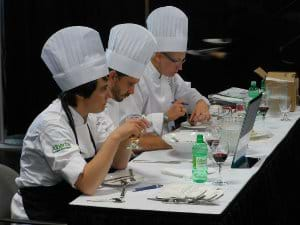 Not long after Richard left our booth, we had DJ Parkin, the General Manager of Fandango's Live Entertainment Saloon, stop by to check out our newest porcelain products along with our best sellers. They've been working hard doing renovations at 12912 – 50th Street NW in Edmonton for a little more than 5 months as you can see from their Facebook page, and it looks like they are really close to opening up their new live entertainment saloon. They did have enough time to come and checkout the 2012 Alberta Foodservice Expo though. Congratulations to DJ & Leigh, you guys are so close to your opening after many months of hard work I am sure you can almost taste the beer beginning to flow!
The Apprentice Level Competition took place from 11:15am to 12:15pm on Sunday, while the Team Competition took place later in the afternoon from 2:45pm to 4:45pm. We were honoured to be able to help sponsor the event by providing our most popular selling line of flatware, our Maria line of 18/10 stainless steel cutlery. This line was used by the judges to perform their sample tastings of each of the competitors dishes. In the picture are Judges (from left to right) Chef Doreen Prei (Zinc Restaurant), Chef Richard Toll (ASNA Cooks) and Chef Allana (CCFCC Edmonton).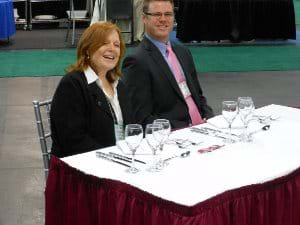 As we moved into the afternoon, it became apparent to the event organizers they would be needing additional chairs to seat some extra judges that were needed for the Team Competition, so we were pleased to be able to provide Donna Dooher, the Chair of the CRFA, and Adam Saunders, Alberta Membership Sales, with a Silver and a Black Resin Chiavari Chair to help pull off the 'Event nature' of the competition. We also provided some of our new wine glasses from our Eclisse line of Stemware to help with the presentation of some very fancy desserts the competitors were making.
Donna Dooher is not only the current Chair of the CRFA but is also a very accomplished Chef and business owner. Here's a write up and a picture that does Donna much more justice than my quick snapshot prior to the culinary competition at the Alberta Foodservice show. She is also one of the featured Chefs in the 'I am Restaurant' video on the front page of the CRFA website.
At the conclusion of the show, attendees, competing chefs and exhibitors were invited to a cocktail and awards presentation party hosted by Chuck Nervick, Senior VP of MediaEdge Communications and Garth Whyte, President & CEO of the CRFA. Prior to the awards presentation, Garth Whyte gave a brief presentation on the significance of the Restaurant sector in Canada. Some of the interesting facts he talked about were: 1.1 million Canadians work in restaurants across Canada with another 260,000 in spinoff jobs, 1 in 4 Canadian will work in the Hospitality Foodservice sector at some point in their life, restaurants contribute 4% to the Canadian GDP and probably the most significant, 18 million Canadians go to a restaurant every day.
All in all it was a very good first day for National Event Supply at the 2012 Alberta Foodservice show.