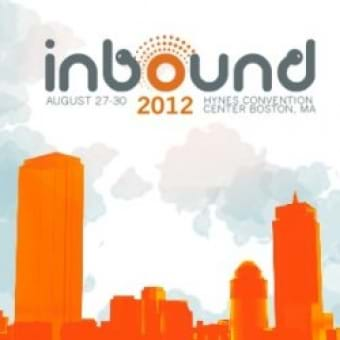 This past week Dennis and I were in Boston for Inbound 2012 hosted by the inbound marketing firm Hubspot. In a previous blog entry, I talked about the dangers of using black hat SEO techniques to boost your organic search ratings. Hubspot is all about raising your organic search ranking the right way. We think their software is pretty good and provides loads of information that will help you develop your website and increase the number of organic visitors to your website. They are currently rolling out Hubspot 3, and if you think you might be interested in their software and their solutions, I would highly recommend checking them out. They provide all sorts of information about their product on their website, and have a demo that explains what their software is all about.
4 things I learned at Inbound 2012
Social Media is Incredibly Important for Raising Your Search Rankings
Sometimes it's hard to get excited about tweeting or facebooking or using any of the other social media networks. When you start out and you don't have a lot of followers, it can feel like you're talking to a wall. But if you create amazing and engaging content, and listen to what others say and provide your comments, you can build relationships with both current and future customers. An interesting factoid, Facebook currently has more than 900 Million users and Google + has more than 200 Million users. So think about the potential…
Social Media is Hard to do Well... and That's a Good Thing
If social media wasn't hard to do well, everyone would be doing it. It requires time, thought, and creativity. It's not something that can be automated and still pass the sniff test. People can tell when you aren't being authentic. Originally the sales activities for your company were all about face to face conversations and relationships. As we moved into the cities, stores became larger and customer service fell by the wayside. Social Media has begun to turn this trend. Conversations and relationships are once more becoming more and more important thanks to social media.
By 2014 more than 50% of all Web Traffic will be from Smart Phones and Tablets
Does your website use Flash animations for navigation or for banner ads? If you do, the most popular tablet on the market (the iPad), one of the most popular phones by market share (the iPhone), and most Android-powered smartphones won't be able to see everything on your site. Last month (July 2012), according to the Google Analytics for our web site (www.nationaleventsupply.com), 6.22% of all our web traffic came from iOS (iPads, iPods, and iPhones) powered devices with another 1.5% from Android and Blackberry powered devices. In July of 2011, they accounted for 2.1% of our web traffic. We're currently working on another redevelopment our website, and you can bet this new release will definitely be mobile friendly.
Google+ is Important because of the Six Letters in front of the + Sign.
Google+ isn't as popular as Facebook, so it's not as important, right? Except that Google has tons of money and still has a big push behind Google + and is starting to roll social media into its search results. If your friends have +1'd a page, that page will show up higher in your search rankings, and you'll see that your friend has +1'd it. These endorsements matter, because you're more likely to choose a result that your friends have endorsed. And, I don't know about you, but the majority of our search traffic still comes from Google.
I'm not a marketing expert and I won't pretend to be one. If you're looking for help with your marketing, I would highly recommend talking to Hubspot, and checking out what they have to offer. And of course by all means please, follow us on Twitter, like us on Facebook, and/or subscribe to our blog.