My mother hates computers and the Internet. Well, that's not entirely true. She just doesn't have any affinity for either of them. She has a laptop which she uses to Facebook-stalk her nieces and nephews, check her email, and on very rare occasions surf the web. I spend most of my working hours using tools on my computer, on the internet, and making misbehaving technology work like it is supposed to.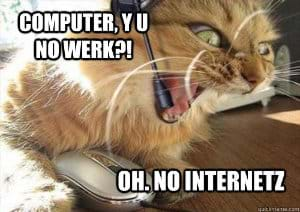 As I write this, our office Internet is down. We have been without the Internet for a day and a half now. A technician has been dispatched and he should be here between 9am and 5pm. While we don't have internet, things have ground to a halt.
Within the past year, our shipping partners have deployed online shipping calculators for us to get our own shipping rates or have requested that we send emails for shipping rates. In addition, all of our small package shipments are done online. An electronic request for a truck to come pick up the packages is sent out and the thermal labels are sent to our label printer. Without the Internet, the shipping department is still able to function, but things take longer. The Internet provides efficiencies that are greatly missed.
The story is different in the sales department. Internet access for the sales department is absolutely crucial. While our website and email server is hosted off-site, without the Internet, we cannot retrieve any of the emails that we are being sent. As more than 50% of our business comes to us through email and through forms on our website, this is a massive problem. A couple of us have had the email redirected to our Smartphones, but this is an imperfect solution.
The bigger problem is our sales system, SugarCRM. It is currently hosted in "The Cloud" on SugarCRM's servers. While their uptime has been fantastic, we are still unable to access the data without internet service in our office. One of the reasons we went with SugarCRM over other CRM offerings, like Salesforce, is because SugarCRM can be hosted locally. Moving our SugarCRM deployment in house onto our new server is a project I'll be handling in the coming months.
In the grand scheme of things, losing the internet for a day and a half is a inconvenience. What happens when a hard drive dies? We've had two catastrophic hard drive failures in the past five years. The first time, we managed to recover the accounting system and get the user back up and running without the loss of critical data. The second time, Dennis lost 3 months of email and numerous files. Backing up regularly is essential; keeping back-ups offsite can enable you to rebuild your business if there is a disaster at your offices or if someone steals your computers. It is also important to test your back-ups before you need them. If they aren't going to be able to recover your system, they aren't worth having.
Spending the time to check that your mission critical systems are protected from power fluctuations, hardware failures that could lead to data loss, and from the loss due to theft is essential. Just think how much work would it be to rebuild your accounting system if the hard drive failed or was destroyed and you had no back-ups. What would happen to your employees if you weren't able to do the payroll? In the long run, it's cheaper to spend the time and money protecting your systems and preparing for disaster than it is to wait until you actually have a crisis.
Prepare your office for your next internet/power outage. Request your physical copy of our Table and Chair Catalogue and our Tabletop Catalogue Today!