Last week, we talked about whether you should stack Chiavari chairs with or without cushions and as a follow on to that post, today's post will showcase how to store Chiavari chair cushions. Storage of Chiavari chair cushions is critical to ensure that they don't get stained from dust or dirt in the warehouse. Here are some of the solutions we've heard event rental companies use to store Chiavari chair cushions.
Chiavari Cushion Bags
Coming in two sizes and holding between 25 – 50 Chiavari chair cushions, Chiavari cushion bags are a great option to both keep the same colour cushions together as well as protect them from stains. Chiavari Cushion Storage Bags are made of canvas with a durable zipper and feature straps or handles to make it easy to transport larger numbers of cushions to and from events.
Cardboard Boxes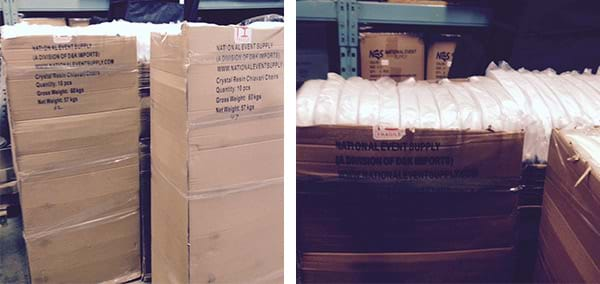 Depending on the size of the box, cardboard boxes can hold anywhere between 10 – 69 cushions. At National Event Supply we reuse the boxing our resin Chiavari chairs come in (measuring 16.5" x 24.75" x 101.5" tall) to store the cushions. We cut these tall boxes in half and fit between 40 – 69 cushions in each box.
Large Plastic Bags
Large plastic bags can help ensure that like-colours of cushions are kept together and are airtight from potential dust and dirt landing on your cushions. This could be another temporary storage solution.