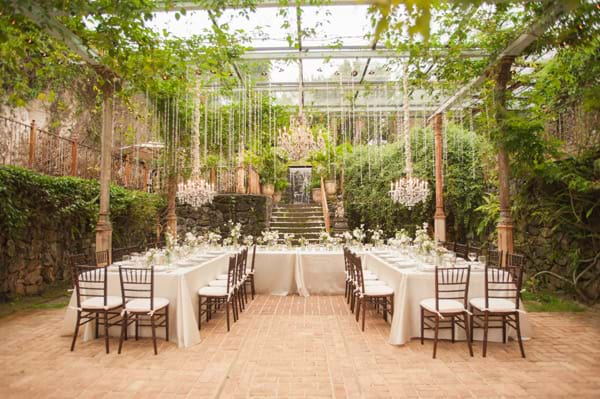 Becoming a preferred or exclusive caterer to a wedding venue is a great way of getting referred business to your location without a need for heavy marketing. More often than not, venues comes with space to hold an event but no in-house catering team to feed the events – making catering / event venue partnerships an important aspect to special events. Here's how to become a preferred or exclusive caterer for venues.
1. Based on your cuisine, figure out which venues in your area are the best fit.
If you offer casual fare, steer clear of fine dining establishments like expensive upscale wedding venues. Also, if your preference is to cater to the corporate world instead of weddings, choose to target convention centres and other venues that are focused on mostly corporate meetings.
2. Of venues you choose for your list, list all of the preferred or exclusive caterers on their partners list
You have a higher chance of getting on a preferred caterers list and receiving business if the venue has less caterers on their partners list. Choose the ones that you have the best existing relationship with, or the ones with the least amount of caterers on the list.
3. Make the "ask"
Contact the venue directly and ask what their standard process is for becoming a recommended caterer on their list. Some venues don't have a process and will be happy to recommend you as a preferred caterer to their guests. Other venues have a very standardized process including an application process. Regardless of their process you want to ensure you come across as extremely professional, and put your best foot forwards.
4. Be prepared to offer extras
According to legendary Catersource consultant Bill Hansen, you should be prepared to offer any (or some or all) of the following items:
Pay the venue a percentage of revenues when you cater at their facility.
Pay a flat fee per year.
Provide free or at-cost catering for venue-sponsored events.
Promote their venue on your website, in your e-newsletters and in your tweets and blogs (you should ask for the same in return).
Agree to pay for certain improvements to the venue (you should ask for agreement to pay any upgrades your equipment might need as a result of their guest wanting specific items).
Help the venue's event manager as needed (and the event manager help you as needed).
Link your catering site to theirs (and you should expect the same in return).
5. Ensure you don't stop this process once you become a preferred caterer
Venues will go out of business, venues will change ownership, get bought out and/or preferred vendor responsibilities transferred. New caterers may come in and overtake you. There's a lot that can happen in the events business. You need to entrust a member of your staff or yourself to be constantly working to maintain these existing relationships as well as hunting for new venues that you can work with. It is the networking and maintaining of these relationships that will get your catering business the revenue and return customers.