We recently announced that we have plexiglass bars, end tables, cocktail tables and coffee tables available for special order. The contemporary event furniture are a great event rental for corporate events or modern special events that want lounge furniture settings scattered around the venue.
DJ's also like them as a DJ Booth and bartenders like to use them for a bar by using the 6-ft Chrome Plexiglass bar with shelf as the bar to stand behind and the 6.5 FT Chrome Bar Back Shelving with White Plexiglass behind the bar for stocking liquors, glasses, etc.
We recently had a customer ask how sturdy the shelf was in the 6-ft chrome plexiglass bar with shelf.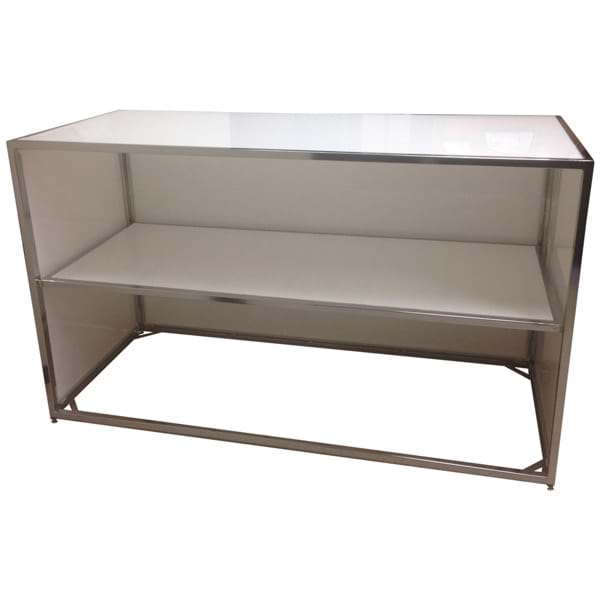 They wanted to make sure that a lot could be stacked on the shelf without it breaking. Very good question. I took the liberty of taking a bunch of pictures lying flat on the ground looking up underneath the bar and shelf so customers and prospects could get a better idea what the support system looked like. Here's what is supporting the shelf and top of the bar underneath: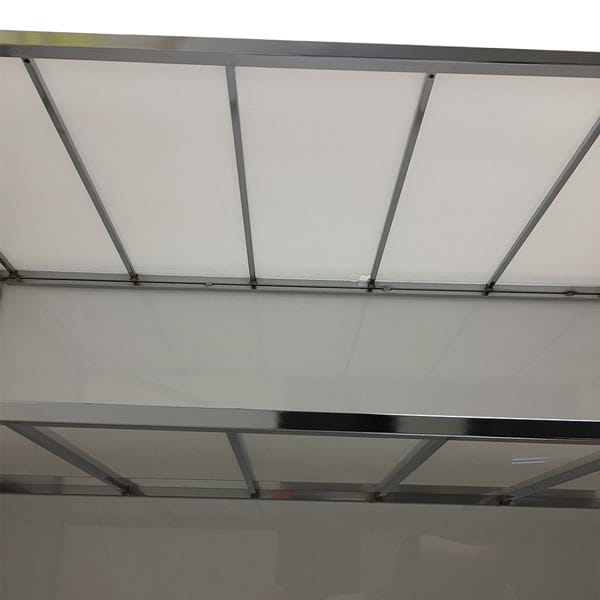 As you can see it has quite a good support system – with chrome supports every 10.5 inches. The shelf itself measures in at 1/4 inch thick as well – providing a good solid foundation less prone to bending.
All of our bar furniture is special order – custom made to order with approximate manufacturing times around 8-10 weeks. If you're interested in a quote for the chrome plexiglass bar or any other bar lounge tables shown: