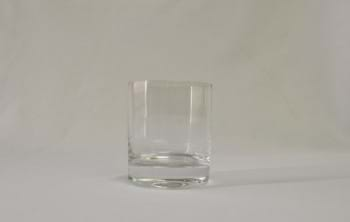 Old Fashioned Glasses are one of the most used glasses in a bar or restaurant because of their versatility. While traditionally, an old fashioned glass is used to serve certain cocktails such as the Old Fashioned, because of the shape of glass it can also be used by bars or restaurants as a Scotch glass for Scotch on the rocks (or neat), other alcoholic beverages such as Rum and Coke, water glasses, and more.
With Restaurants Canada stating the average foodservice operator's pre-tax profit is just 4.2% of the entire operating ratio¹, finding glassware that not only allows operator's to utilize the same glass in different ways, but also doesn't break the budget can be a problem. We've looked at numerous different sources of old fashioned glasses both in crystal and glass in Canada to help you determine how much they cost so you can price your drinks accordingly.
Old Fashioned Glass Price:
The first thing you need to determine is whether you want to go with a old fashioned glass made of glass or crystal old fashioned glass. Old fashioned glasses made of glass that are approximately 10oz range in price from $2.50 - $9.99 per glass. This price range is dependent on whether they're purchased from at wholesale or retail prices, whether they are manufactured from a brand-name and the location they are manufactured. Crystal old fashioned glasses that are approximately 10oz range in cost from $3.15 - $9.99 per glass (for a similar straight style tumbler). This price range is again dependent on wholesale or retail prices, where they are manufactured and whether a brand name manufactured them.
Shipping Costs:
With an increasingly online world, there are times when you either don't have the time or physically can't pick up old fashioned glasses in store resulting in free shipping. If a store pick up isn't an option, shipping costs would range based on the quantity of glasses you are ordering. Because glass and crystal are primarily air, shipping costs are charged on the dimensions of the shipment instead of the weight. For example, 10 dozen glasses across country from our warehouse in Mississauga, ON to Vancouver, BC you'd be looking at 0.50c per glass in shipping charges.
Hopefully this blog post gives you a range required to start planning your bar menu along with what budget you can allocate to tabletop supplies.
We supply tabletop supplies including crystal and glassware to party rental companies and restaurants across Canada. If you're interested in a quote for Old Fashioned Glasses including shipping to your location:
1. Restaurants Canada 2014 Foodservice Operators Survey