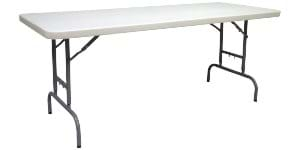 Adjustable Height Folding Tables are a great addition to any event – to create bars, standing registration desks or more. Having the height capacity anywhere from 30" (standard table height) all the way to 43" makes them a valuable table to have in inventory as they can do two jobs for the price of one. One of the questions we get asked often is "How much does an adjustable height folding table cost?"
This blog post will help to answer that question.
Price of Adjustable Height Folding Table
The price of an adjustable height folding table varies based on length of table (industry standard is 4ft or 6ft lengths), material of the table, brand of the table and table leg specifications. For the purpose of this post we will be looking at a 6ft x 30" adjustable height table in plastic. In Canada, 6ft x 30" adjustable height folding tables range from $74.00 – $129.00 excluding taxes and shipping. This range is based on whether it's a wholesale or retail price of table being purchased.
Shipping costs of Adjustable Height Tables
With the busyness that comes with the event industry, there are times when you either don't have the time or physically can't pick up the tables from a warehouse or store – foregoing the free shipping option. If a store pick up isn't an option, shipping costs would range based on the number of tables you are ordering. Because tables are most often shipped on skids instead of in individual packages (to prevent damages mid-transit) shipping costs are charged on the weight of the total shipment. For example, 10 adjustable height folding tables shipping from our warehouse in Mississauga, ON to Moncton, NB you'd be looking at $10.06 or less per table in shipping charges.
Hopefully this blog post gives you a range required to start planning what budget you can allocate to adjustable height folding tables.