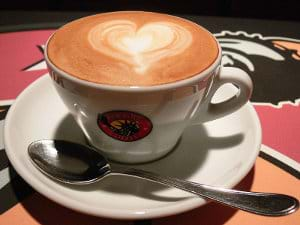 Back in September/October of 2013, The NPD Group released a report on the coffee market. Included in that report was a graph showcasing the amount of coffee consumed in Japan, Australia, UK, US, China, Germany, Italy, France, Spain and Canada. Out of all countries, Canada ranked second indicating the high amount of coffee Canadians drink.
"73% of Canadians drink coffee, consuming an average of 12.4 cups per week or nearly two cups per day." - The NPD Group's What's Brewing in the Coffee Market: A Consumer Perspective
Quick Service Restaurants in Canada have already jumped on this market opportunity, revamping their coffee menu offerings or offering coffee for the first time, offering loyalty card rewards and even partnering with major financial institutions to offer an innovative way to purchase their coffees while earning rewards. But while the Quick Service industry seems to be making a lot of press on its new and innovative coffee programs, it seems as if the Full Service restaurant industry is lagging behind.
Barbara Smyth of The NPD Group wrote an article on the What's Brewing in the Coffee Market report for the Canadian Restaurant & Foodservice News Magazine and suggested that expanding a full service restaurant's menu should bode well for business. In fact, Technomic, another foodservice analyst firm wrote a blog post about Coffee Café's stating these particular chains have experienced a 5.6% increase in sales. If you think about it, if Canada ranks second for the amount of coffee consumed, it's a no brainer to include a coffee program as part of an expanded menu.
What are some options that fullservice restaurant operators can use to include a coffee program and leverage the market opportunity?
I found an article from 2011 (I know a little dated but the article holds true today) from the Coffee Buyer Report on how innovative flavour programs in coffee are an opportunity waiting to happen. The report goes on to mention that "an elevated perception of flavoured coffee as a 'specialty beverage experience' is driving sales increases in other flavours" besides the traditional Vanilla and Hazelnut flavour variations.
A Full Service Restaurant Operator could use this to their advantage – finding and developing a flavored coffee program to create an innovative beverage experience based on this country's most treasured beverage. Operators could also challenge their front-of-house and back-of-house staff with a friendly inter-restaurant competition to devise new coffee beverages to offer on the menu – for either credit on the menu (for the fame hungry) or a monetary fee such as a gift card or a day off. Alternatively, perhaps you offer a coffee tasting similar to a beer flight as a dessert or beverage option as a romanticized experience rather than just a beverage.
Whatever you choose to do, it makes sense to try to capitalize on the sheer size of coffee drinkers in this country. It could be good for your business too.