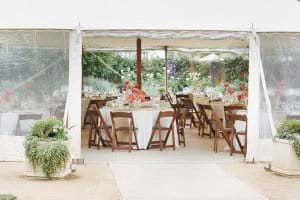 Image by Josh Gruetzmacher Photography via Style Me Pretty
Dark fruitwood folding chairs have become quite a popular event chair in the past year. Also known as walnut folding chairs, dark fruitwood folding chairs have the traditional design of a white resin folding chair but in wood. They feature a similar padded seat that is replaceable and compliment a wood harvest table at a rustic event. Because white resin folding chairs are one of our top selling chairs we often get asked how much dark fruitwood folding chairs cost in Canada. We've answered this important question below.
Cost of Dark Fruitwood Folding Chairs
A dark fruitwood folding chair range in price from $29.95 to $32.95. This average is a fairly small range compared to some of the other cost / pricing blog posts we've written about. The range in this case is due more to the volume discounts associated with the product being purchased than the quality or brand of the chairs. Often suppliers of event chairs provide volume discounts that discount the price per chair as the quantity of chairs purchased increases.
Hopefully this post allows you to budget the approximate amount you're looking to spend on dark fruitwood folding chairs.
If you're interested in a quote including shipping to your location: