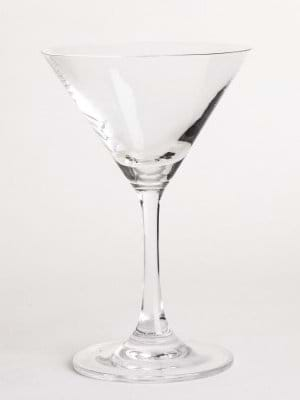 Crystal martini glasses are often used in high-end restaurants, golf courses and event venues to reflect and enhance the atmosphere. But if a restaurant or event venue is either opening for the first time or looking to create a more luxurious look, one of the things that is extremely important is budget. With profit margins slim and breakage costs to be factored in, operations managers, chefs and foodservice operators / owners often ask "How much do crystal martini glasses cost in Canada?"
This blog post attempts to round up the range of costs associated with purchasing crystal martini glasses so purchasers can budget appropriately.
The cost of crystal martini glasses varies tremendously depending on the look and size of glass you want. Martini glasses in Canada generally come in a 5oz – 10oz volume and are made of either lead-free crystal or lead crystal. (If you're interested in learning more about the difference between lead-free crystal and lead crystal, refer to our earlier blog post here). Price also depends on whether the glass has been hand cut, hand blown, or machine made. Machine made martini glasses allow for a more uniformed and consistent shape while hand blown crystal can have shape inconsistencies (though most are hard to tell with your naked eye). Hand blown also tends to be much more expensive because they're often blown through highly paid highly skilled craftsmen. Hand cut refers to the grooves cut in the crystal creating patterns that catch the light and eye. A crystal martini glass therefore varies in price from $2.85 wholesale up to $112.50 retail.
Shipping prices for crystal martini glasses are calculated based on the shipping cubic measurements instead of the weight – because glasses are mostly air and take up more space. You would be looking at a minimum of $1.40 per glass.
Hopefully this blog post helps with your budgeting when looking to purchase crystal martini glasses.
We stock a wide variety of crystal stemware including crystal martini glasses in our Mississauga, Ontario warehouse. If you're interested in a quote including shipping: