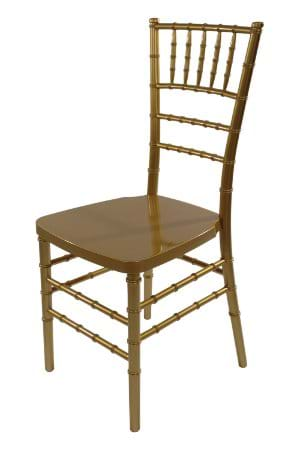 One of the first questions a party rental, event rental, hotel, banquet hall or caterer asks themselves when they begin the process of buying chiavari chairs wholesale is: How much does a chiavari chair cost, and what are the expected prices for different kinds of chiavari chairs? Unfortunately many Canadian companies run into road blocks when they research online as to how much chiavari chairs are really going to cost with few in the industry posting prices online. This article will attempt to answer this important question – just keep in mind that chiavari chair prices vary drastically between the United States and Canada – buying from US companies may look like a better deal but with the exchange rates, duties and shipping – your end cost generally is higher than if you'd bought from a Canadian company. As the different types of chiavari chairs have different price points, this article takes a look at what a Canadian company buying from a Canadian event equipment sales supplier can expect in terms of pricing.
Wood Chiavari Chairs:
Wood chiavari chairs are the least expensive chiavari chair option. This is mainly due to the fact that the cost of materials for a wood chiavari chair is cheaper. There are numerous pricing components when purchasing wood chiavari chairs that influence the cost – the type of wood being used, if cushion is included, the volume you want to buy at, whether the chair is sold on volume discount levels or at a set price, and whether the chair is shipped assembled or knocked down. The average wood chiavari chair will cost between $39.00 to $65.00 CDN, depending on the quality of the chair and whether it is assembled or knocked down. Typically with all types of chiavari chairs, the larger volume of chair you buy, the lower the cost of each chair. That being said, the quality of wood, and if the chair is preassembled, drives the price higher but the chair will also last longer.
Resin Chiavari Chairs:
Resin Chiavari chairs cost more than wood Chiavari chairs because resin is a higher cost material than wood. Resin Chiavari chairs can also have steel support frames built into the chair that provides a stronger, more durable product for higher turnover businesses. The average resin Chiavari chair ranges in price from $40.00 – $70.00 CDN depending on whether it has a steel support frame, cushion included, volume discounts, and whether it's shipped knocked down format or preassembled.
Crystal Chiavari Chairs:
In most cases, but not always, crystal Chiavari chairs will have the highest initial cost, and will again vary greatly depending on if the cushion is included, the volume you want to buy, whether the chair is shipped assembled or knocked down, and the cost to ship. The reason why crystal Chiavari chairs tend to cost more is due to the higher cost of polycarbonate material used to create the clear look. In the majority of cases, crystal Chiavari chairs will cost between $50.00 - $70.00 CDN.
Shipping costs on Wood, Resin & Crystal Chiavari Chairs:
The shipping costs of chiavari chairs usually run $2.00 – 29.00 per chair depending on the size of the order (shipping costs tend to decrease based on volume) and where it is shipping from. Keep in mind that due to the bulkier nature of preassembled chairs, the shipping costs can be higher upfront (depending on your volume) however preassembled chairs are easier to maintain and tend to hold up better in high turnover businesses. The shipping costs do not vary based on the type of chair purchased but solely on volume, weight and shipping location. Nationally based suppliers to the hospitality industry will have multiple warehouses across the country to provide better shipping rates coast to coast.
For more information regarding National Event Supply's chiavari chair lines please feel free to: