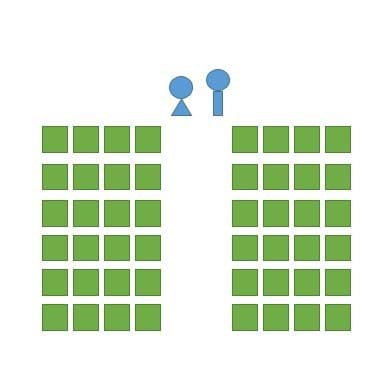 With any event that requires chairs, it helps to know the dimensions of the chair so an event coordinator or potential event client understands the amount of chairs to purchase or rent from a party rental company. This post will talk about the dimensions of a white resin folding chair; a popular chair used for indoor or outdoor events as a more budget friendly chair than Chiavaris.
White resin folding chairs have a chair width of 17.5" / 44.5 cm. They have a depth of 18.5" / 47.0 cm. If a potential client or event venue is looking to purchase chairs – below is a chart showcasing the number of chairs per row depending on the size of the room. This chart assumes a standard wedding ceremony setup with a 5 foot center aisle, 3.5 feet of walking room on the left and right sides of the room, 5 feet of walking room at the back of the room, 10 feet from the front row of chairs to the front of the room (for bride, groom and officiant standing room), 0" between each chair and 24" between chair rows (for walking / leg room).
| Room Size | # of White Resin Folding Chairs |
| --- | --- |
| 25'x40' | 56 Chairs |
| 25'x50' | 88 Chairs |
| 35'x50' | 140 Chairs |
| 50'x50' | 374 Chairs |
| 50'x100' | 552 Chairs |
In general, a good rule of thumb would be 2 white resin folding chairs for approximately every 3 feet of space.
Hopefully this post can be a reference point used by your clients or yourself when estimating the number of white resin folding chairs to be used for an event.