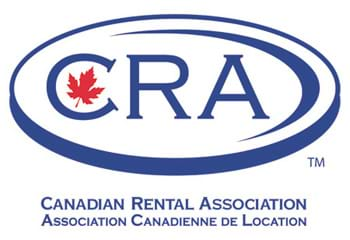 Tuesday evening was the third CRA Ontario event/meeting of the fall season. Dennis and I attended the meeting which was hosted by Uniquip at their Ontario location located at 2625 Meadowpine Drive in Mississauga, just off of Highway 401.
Uniquip is one of Canada's premiere suppliers to the equipment rental industry providing a wide range of products including generators, pressure washers, flooring equipment, construction, and compaction equipment. Uniquip has been in business for over 35 years, and has been owned by the John Brooks Company since 1996. John Brooks will be celebrating their 75th year of existence in 2013 and recently merged their Canadian operations under the Uniquip brand to provide better service and support for the rental market.
The meeting drew quite a large crowd, probably one of the highest turnouts in recent years. It was great seeing Tony and Michelle from D & D Party and Tent Rental. They provided tables and linens for the CRA Meeting at no charge. It's great to see such comraderie and makes us proud to be a member of such a great organization. Upstairs in the conference room, I ran into Kim and Shannon from Muskoka Party Rentals in Bracebridge, Ontario. It was good to see them, especially since it is quite a long trip for them. After a short conversation, we were invited to take a tour of the Uniquip Warehouse.
The Uniquip warehouse has about 60,000sq feet of floor space and a very impressive clear height that allows for 6 levels high of racking. The warehouse includes lots of racking for product storage, a staging area for orders, a product assembly area, and a testing area.
After the tour we were taken back to the conference room where Mike Maltby (President of the CRA Ontario and owner of Ingersoll Rent-All Inc) talked about the schedule of upcoming events, the most significant of which will be the 2013 CRA Ontario Tabletop Show which is to be held at Nottawasaga Inn Resort in Alliston, Ontario on Saturday, January 19, 2013. The Tabletop show is a great way to see all the leading suppliers to the party rental and equipment rental industry in one location and to share stories with your peers. After the Tabletop show there will be an evening banquet dinner followed by some great entertainment.
We then proceeded to a great buffet dinner that was prepared by Teatro Conference & Event Centre in Milton. We were served roasted to perfection roast beef and a collection of incredible side dishes. It wasn't until we were eating our dinner that Dennis and I realized we were sitting at our 60" round plywood folding tables. When we usually see the tables, they're stacked on a skid waiting to be shipped to one our fantastic customers. It was a great opportunity to see some of our products in action!
After dinner we were entertained and informed by Joe Ellers on 'How to Make it Happen with Proactive Sales Strategies'. Joe has more than 25 years of sales experience and talked about ways every one of the businesses in attendance could do simple little things that would dramatically improve company's sales. The highlights of Joe's presentation were:
Define what you want more of—This of course would be SALES! But make sure you are specific with this Goal.
Put together a Target Account list that includes both your existing Customers and New prospects
Set up outbound calendars—this is so your staff schedules calls: phone or in-person. And it doesn't have to be only for your sales people.
Start Tracking Your Opportunities—You can't grow what you don't track or measure.
If you are interested in attending any of the CRA Ontario meetings do not hesitate to send us a quick note and we would be pleased to let you know the details and location for the next meeting.