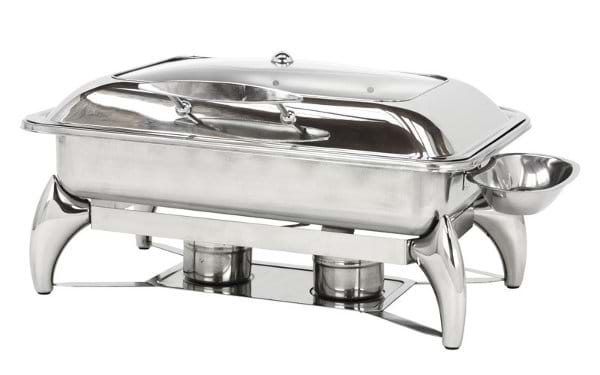 Photo Source: Buffetenhancements.com
In the foodservice industry, there are two different types of chafer pans: stainless steel food pans and porcelain chafing dish inserts. Stainless steel has long been the chosen type of chafer pan, however porcelain chafing dish pans have been growing in popularity. To help with purchasing decisions regarding whether to buy a stainless steel or porcelain food pan I've compared the two below for easy reference:
Stainless Steel Food Pans:
Dishwasher-Safe with most manufacturers recommending hand-drying the pan immediately after the rinse cycle or hand-washing and drying to preserve the original finish
Not Microwave-Safe
Food Pans are Oven-Safe Up to 390˚F (198˚C) however prolonged oven use at high temperatures may cause discolouration.
Prolonged exposure to high heat settings may cause your chafing dish to discolour. A stainless steel cleanser and non-abrasive cloth should refresh the metal
Warping can occur if placed on cold surfaces or immersed in cold water when hot.
Food cannot be left or stored in food pan for long periods of time. As well, superficial pitting may occur if very salty or acidic foods are left in the pan.
Lightweight
Generally less expensive than porcelain
Porcelain Food Pans:
Dishwasher-Safe
Microwave-Safe
Oven-Safe Up to with no discolouration
Non-warping
Food can be left or stored in food pan for long periods of time.
Heavier than stainless steel
More expensive than stainless steel
Easier to break than Stainless steel
Generally whether an event venue or caterer choose porcelain or stainless steel is a matter of personal preference of the company. There's some companies that swear only porcelain will do while others would consider porcelain sacrilege. Hopefully this comparison will help you decide what your company prefers and the benefits and drawbacks of each.