Tuesday night I had the pleasure of attending my first International Special Events Society (ISES) Toronto event at the Grand Luxe Event Boutique. From the moment I walked into the room I knew this networking event was going to succeed my expectations. From the venue décor to the energy in the room this event had a buzz that I've never experienced before. The networking itself was phenomenal for an ambivert like me – who needs to warm up a bit to people before I come out of my shell. I was greeted by no less than 7 people in the short networking time available and got a chance to speak with Past President Julie Danaylov of A2D2 – Aerial Dance Cirque Company – who made me feel right at home. She mentioned that King Dahl was going to blow my hair back – and he did just that.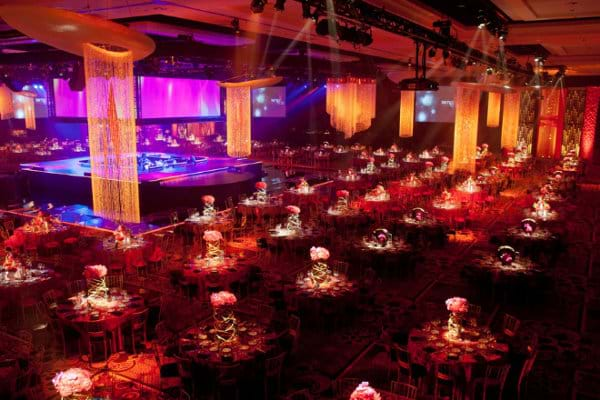 Image Source: MGM Resorts Event Productions Tempo NYE 2012
For those unfamiliar with King Dahl, Executive Director of Events for MGM Resorts Event Productions, he manages a 100+ person award-winning team who designs and produces 1000+ events annually with a 100,000 square foot warehouse for props, scenery and décor elements. He is an expert at taking his passion for art, design, environmental aesthetics and music and creating distinctive and innovative design concepts for thousands including celebrities in film, sports and music, Fortune 500 companies and charitable foundations. He's quite an impressive event producer and a top notch speaker.
To impart some of the wisdom he shared with us, I've compiled 10 shareable quotes for you to share with your colleagues on events.
On Hiring: "Put the right people on the bus – in the right seats of the bus" - @kingdahl
---
"If you always do what you've always done, you'll always get what you've always gotten" - @kingdahl
---
"The one true constant is how powerful cooperation and collaboration can be" - @kingdahl
---
"Innovation comes from studying well beyond your core business." - @kingdahl
---
"Excellence isn't a goal. It's where to begin" - @kingdahl
---
"Focus your team on 100% accountability. 0% excuses" - @kingdahl
---
"Avoid OPUD – over-promising and under-delivering" - @kingdahl
---
"Communicate clearly & concisely. The clearer you are with people the less chance for failure" - @kingdahl
---
"Never stop learning – you will never know it all. No one does." - @kingdahl
---
"Imagine the ideas that can come from being open to new people with new experiences" - @kingdahl
---