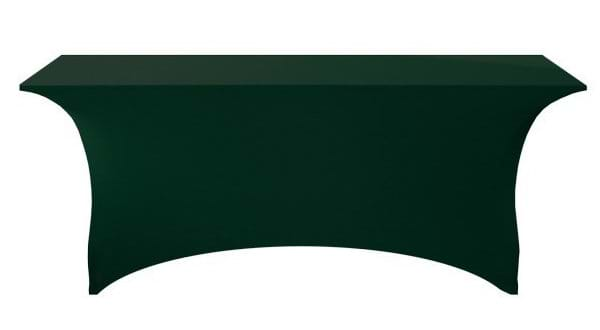 Spandex table covers are a fantastic way to create a sleek, modern base for your event décor. They hide a wood or plastic folding table, have reinforced feet to avoid ripping and can be washed, stored and put back on with no wrinkling. This can be a huge time saver in an industry where every second counts in getting an event together. When a business such as a party rental company, banquet hall or hotel is looking to purchase 6ft spandex table covers, one of the first things they need to know is how much they cost. Unfortunately for Canadians, there isn't a huge number of stores that sell spandex table covers which can make it hard to budget and purchase these event items. We've rounded up the average cost range you can expect to pay for a 6ft spandex table cover so you can begin the process of budgeting for your next purchase.
6ft spandex table covers come in a wide assortment of colours. The most popular colour by far is a black spandex table cover because of its versatility in working with most other colours. You can also find spandex table covers in white, ivory, blue, green, and red. If you're a business looking to use spandex table covers for a trade show or other event, we've sold to companies who imprint on the table covers so companies can receive custom branding on their spandex table cover.
A 6ft spandex table cover, regardless of its colour, varies in price from $29.95 to $129.65. These prices are exclusive of taxes and any shipping costs that might apply. Average range for shipping costs will vary depending on the amount of spandex table covers purchased and where you need them shipped to. Budget anywhere from $3.50 - $10.00 per table cover on shipping to be safe.
If you're interested in a quote for 6ft spandex table covers in black, white or ivory: