Chiavari chairs come with either a fabric cushion, vinyl cushion or vinyl plywood base cushion to make the chair more comfortable for seating. They come in black, white and ivory colours. The fabric chiavari chair cushions have Velcro tabs to secure the cushion from slipping and a zipper at the back to take the cover off for cleaning.
One issue that party rental companies (and any other company that owns chiavari chairs for that matter) face with fabric chiavari chair cushions is staining. While fabric cushions can be taken off and washed, there always comes a time when a party rental will encounter a set in stain that just won't budge. And, there's also the pain of putting the fabric cover back on the cushion – not as easy as it sounds. Because this is an issue faced, I brainstormed how to prevent stains from occurring in the first place and thought I would test out ScotchGard Fabric and Upholstery Protector on the cushions. Below are the steps I took to test the product along with my results!
For a baseline – here's what coffee looks like when it is spilt on a fabric chiavari chair cushion that has not been treated with any protector: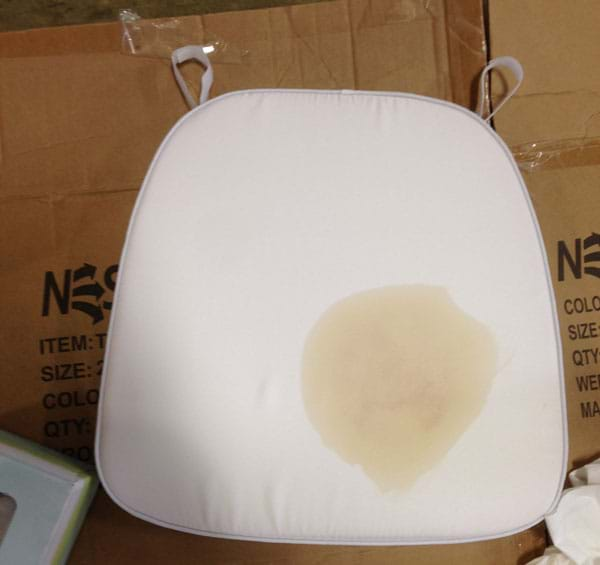 1. Purchase ScotchGard Fabric & Upholstery Protector.
I went to Home Depot to purchase this but Canadian Tire would also have it.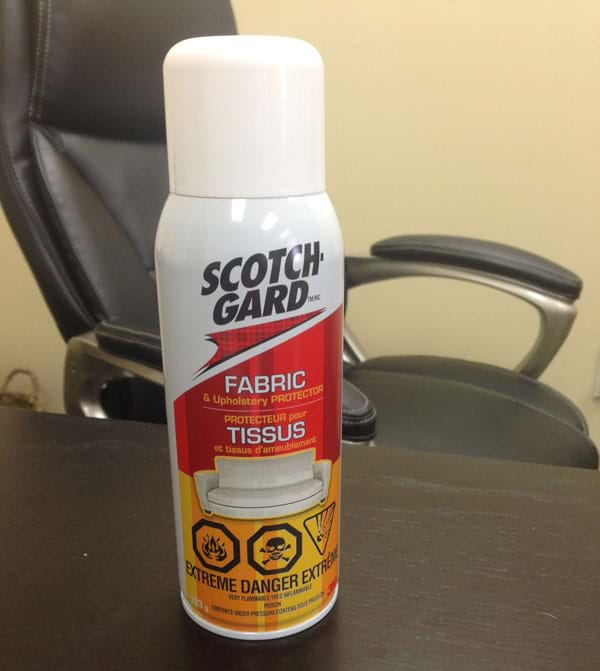 2. Found a box to protect the area around the cushion.
3. Found a new, never been used, clean white fabric cushion.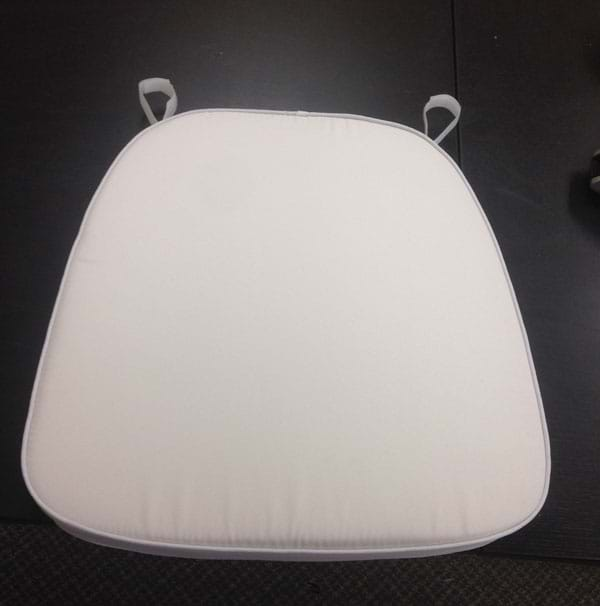 4. Shake the spray can
5. Spray the cushion with Scotchgard 6" away, overlapping the spray in a slow sweeping motion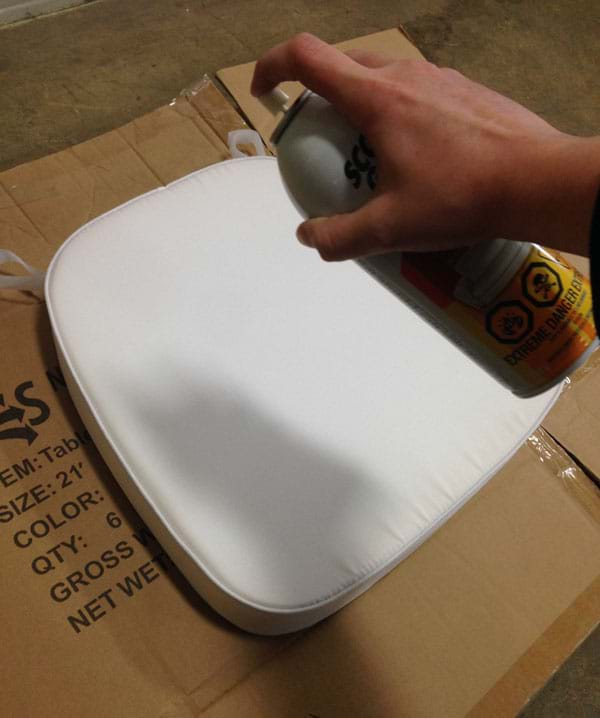 6. Allowed to dry for 6hrs.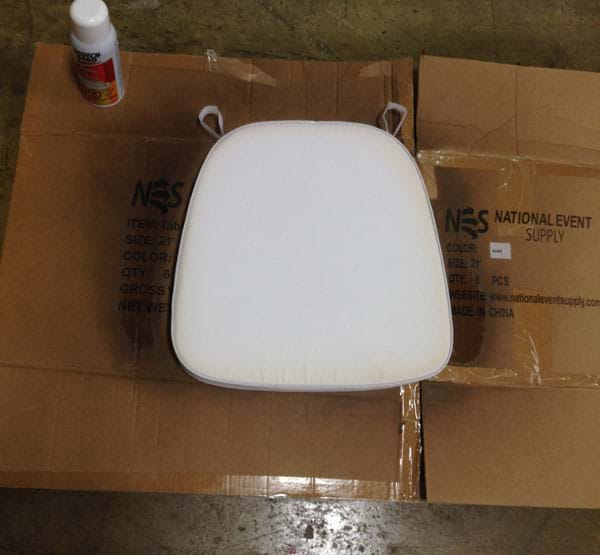 7. Spill coffee on the cushion
8. Left a Small Stain – but repelled almost all of the coffee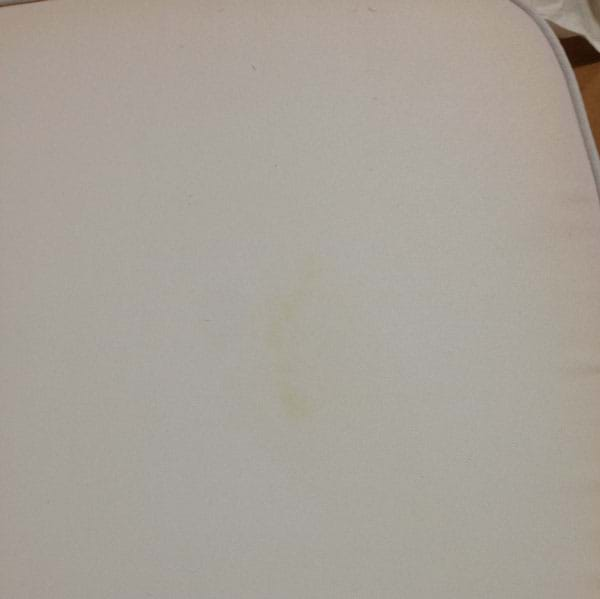 9. Sprayed remaining (unstained area) with another coat of scotchgard and let sit overnight
10. Spilt coffee on the area coated with 2 coats of Scotchgard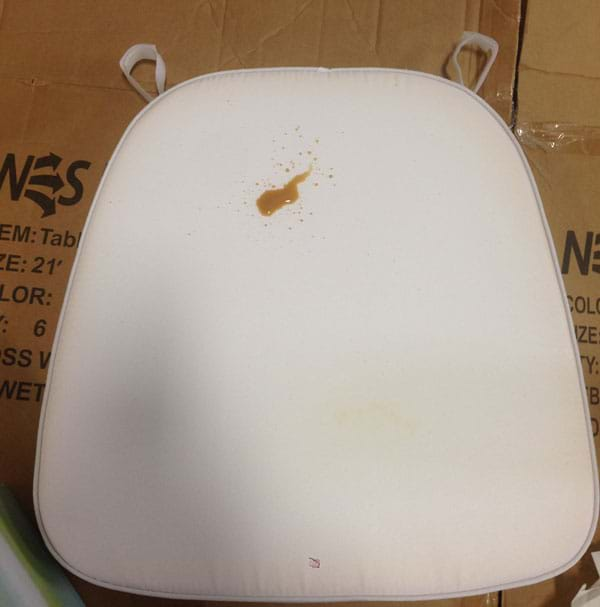 11. Here's what the cushion looks like after the coffee is mopped up off the area with 2 coats of Scotchgard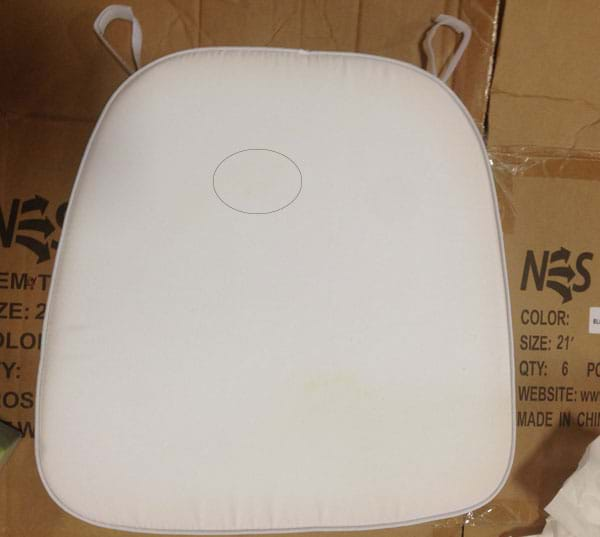 There is a very faint stain on the area covered with 2 coats of ScotchGard but it is much less invasive then the untreated fabric or fabric treated with 1 coat of ScotchGard.
At this point I think I would leave it up to a party rental company whether they choose to ScotchGard their fabric cushions or not. The pros of this method include the stain is way less noticeable and doesn't seep into the cushion insert. The cons of this method include the cost for labour and the ScotchGard, the wait time associated with drying and it doesn't protect the fabric enough to prevent washing.
I plan on doing a subsequent test next week by washing this cover to see whether Scotchgarding the stain means it is easier to wash out then the untreated fabric. Check back for the update!