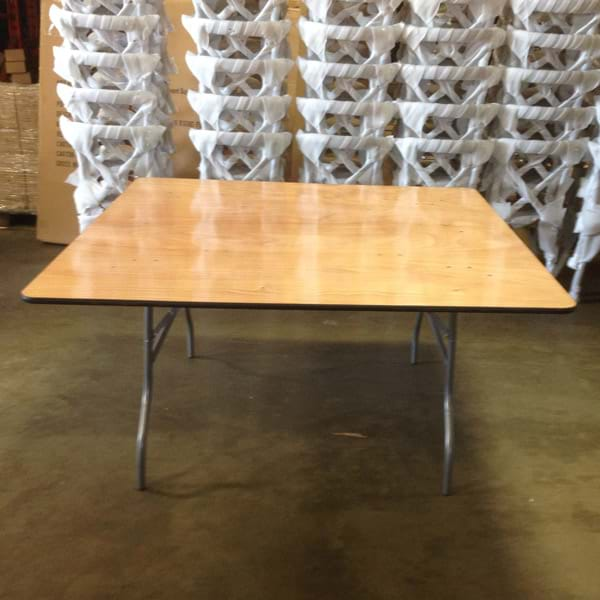 Every once in a while we get requests for differently shaped folding tables – above and beyond rectangle or square. We stock serpentine folding tables in both wood and plastic, as well as half-moon tables in wood. We've also started getting into non-standard sizes for rounds and rectangles – including 8ft x 36" tables, 8ft x 42" tables, 7ft rounds, 8ft rounds and 8ft ovals. Most of these are custom order products right now but that can always change – and you'll be the first to know! In the past we had 5ft square wood folding tables but when we switched to a more reliable, higher quality wood folding table manufacturer, we didn't have the ability to manufacture 5ft square wood folding tables.
It has been almost 7 years since the switch and our manufacturer has grown into the ability to make just about any wood folding table we can think of. Because of this, I'm pleased to announce that now back in stock is 5ft square wood folding tables.
Made of clear coated ¾ inch thick plywood and feature supports that form a box on the underside of the table. Because of this support structure, the tables will not bend or warp under the heaviest of loads.
Additional Details:
60 inches long x 60 inches wide
Edging is t-shaped black vinyl
Bolt-through construction to secure rails and folding legs to ensure strength and durability
Wishbone-style leg design
18 Gauge grey powder-coated steel legs
Snap lock legs to secure legs in an open position