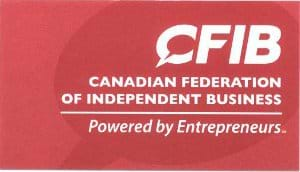 National Event Supply is proud to be a member of many different organizations that help improve many of the industries that we serve. One organization that we are part of that is not industry specific however is the CFIB (Canadian Federation of independent Business). The CFIB is an organization that represents over 109,000 small business owners across Canada. They are responsible for policy changes including increasing the Small Business Corporate Tax threshold to $500,000, increasing the Lifetime Capital Gains Exemption to $750,000, and defeating the proposed mergers of four of Canada's chartered banks. While these are exceptional accomplishments in their own right, what are some of the benefits for a small business owner like you?
Lobbying
Lobbying is something that is generally reserved for large companies since they are the only ones that can afford to lobby in a meaningful way. Large corporations are happy to lobby on their own or through industry trade organizations that are made up almost exclusively of large companies. The CFIB however gives small business owners like you the power to lobby the government. Individually we are very limited by time, money, and experience, but together we represent a significant part of the Canadian economy. As a result when the government helps small business owners, they help the government and Canada as a whole. Since the CFIB has the strength of all their members behind them, they are able to watch for unfair practices and policies that adversely affect small businesses. They also help influence the budget to make sure small business is considered. Finally, don't be afraid to tell them about an unfair practice in your industry, they may be able to help.
Business Support
Another great benefit of being a member of the CFIB is getting access to their business support. Many small businesses do not have the time, money, and staff to make themselves aware of all the legal changes constantly happening around us. We focus all of our time and effort on our business and its customers, making sure our business is profitable and our customers are happy. Many of us are not likely to realize that the government has made changes to a law that affects our business. A great example is the change to the accessibility laws for people in Ontario with disabilities. These changes are important for our businesses to be aware of and compliant with for not only our own sake but more importantly our customer's sake.
Savings on Services
The final great benefit that I would like to touch on is the CFIB gives you the opportunity to save on some services. You can save on services ranging from credit card processing to telecom to insurance. While saving money on services is always great, they also give you the opportunity to save on business skills training. Things like the Small Business Human Resources Certificate, Small Business Management Certificate, and Small Business Health and Safety Certificate. This goes hand in hand with some of their business support as it allows you to ensure your business is compliant with all of the required government legislation.
If you are interested in more information about the CFIB don't hesitate to visit their website. If you are interested in our experience with them please contact us.