By now you probably know that there are two types of materials used most often for wedding-style folding chairs: resin folding chairs and wood folding chairs. Wood folding chairs have typically been the material of choice for event venues and rental companies however resin folding chairs have been gaining steam over the past 5 years.
In today's post, I'm going to provide an honest comparison of the two and then let you determine for yourself which folding chair makes the most sense for your business.
Below is a detailed comparison of these two including the pros and cons of each type.
Wood Folding Chairs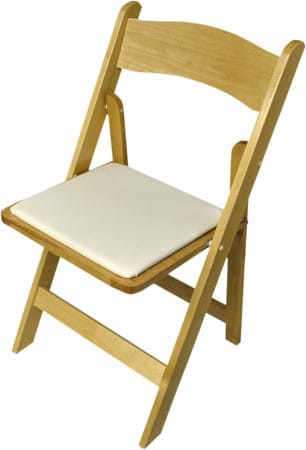 Pros:
During informal stress tests, breaks at 748lbs of weight
Lower initial cost to purchase
Slightly lighter in weight 9.1 lbs
Stackable when folded flat
Seat is replaceable
Cons:
Shows scratches more easily when the wood is stained as the interior of the wood is light
Need to be secured with bungee cords or ratchet tie down straps as wood folding chairs don't lock together when stacked and will move unless secured
Screw covers are not replaceable
Screw covers are not flush with wood
Higher maintenance costs associated (wood needs to be sanded and repainted or re-stained to properly maintain)
Resin Folding Chairs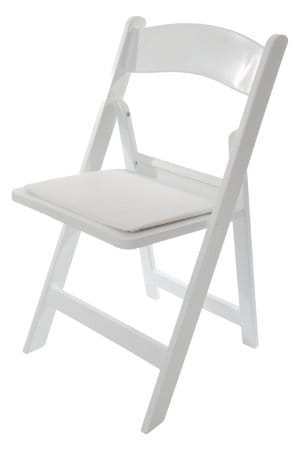 Pros:
During informal stress tests, breaks at 748lbs of weight
Stackable when folded flat and locks in place to other chairs – requiring no additional straps
Doesn't show scratches due to resin being same colour throughout chair
Low maintenance cost
Screw covers are replaceable
Screw covers flush with resin
Seat is replaceable
Cons:
Higher initial cost to purchase
Slightly heavier in weight 9.9lbs
Can yellow with age
Each chair is a popular chair in their own right and have plenty of fans. Hopefully this comparison post will give you the information you need to make the decision that's right for you and your business.