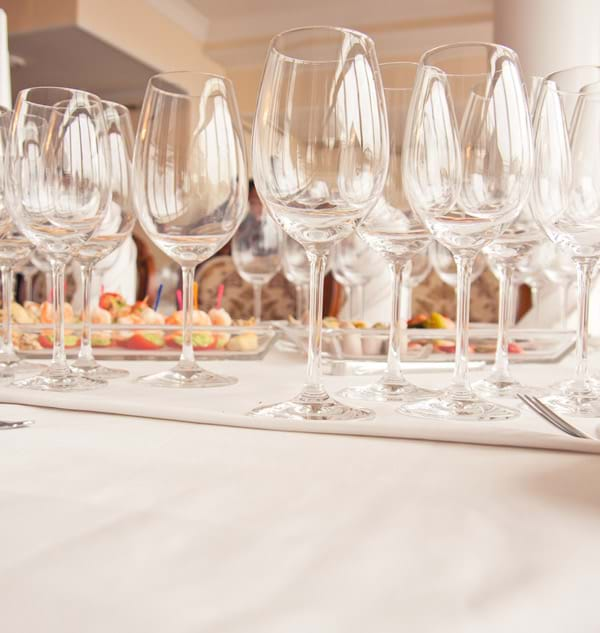 Crystal stemware is used a lot in fine dining restaurants as well as rented out to special events where a little sparkle is necessary on the table – or if a more luxurious atmosphere is wanted. It tends to be synonymous with a higher end price tag. There are misconceptions that exist with both crystal stemware and glass stemware but today I'm going to touch on the 3 misconceptions that people often assume about crystal stemware – in no particular order.
1. It's really expensive
While it is true it can be a more expensive – this is more often than not the result of how it is manufactured and who is selling the crystal stemware. Crystal stemware that is hand blown by master craftsman is obviously going to be priced higher because of the human labour involved in producing it. Also, glass blowers are not a dime a dozen and is a craft that doesn't have millions flocking to learn the trade. That being said, crystal stemware can be machine made – making the glasses more uniform in appearance and lowering unit costs. Also, companies that sell crystal stemware get very good at knowing how to specifically market crystal to appeal to our wants of luxury, fine craftsmanship and extravagance. Because of this, the pricing has been inflated because they have created a market that can support a higher price. Looking for wholesale suppliers of crystal stemware can help alleviate these higher prices.
2. It's even more breakable than glass
While generally a more breakable substance than glass, crystal stemware tends to have the same issues that also occur with glass stemware. The bowls of the crystal and glass stemware can pop off the foot. That being said, assuming you handle crystal stemware like it can break – and that it isn't indestructible – it should hold up well for you.
3. It's not safe because of lead content
Health Canada's stance on lead crystal is that it may release lead into your food or beverage. That being said, there is lead-free crystal stemware that exists these days. This eliminates the worry that may exist of potential lead poisoning.