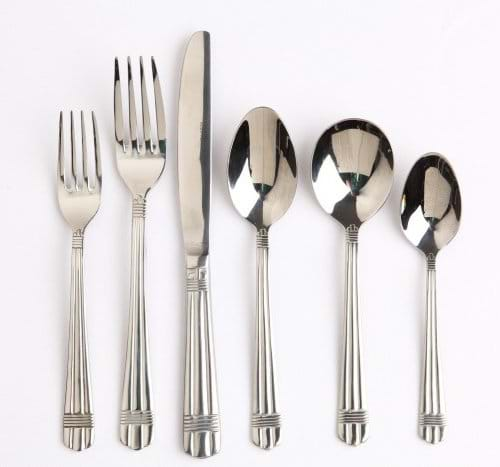 When choosing stainless steel flatware for your catering company, restaurant or party rental, understanding what makes up the flatware and its pros and cons is important. It helps an owner understand how to care for the cutlery and how often they should be looking at replacing it. Flatware typically comes in 18/10, 18/8, 18/0 and 13/0 compositions. The most common type of composition found in rental situations, restaurants and catering functions is 18/10 and 18/0 and is what the basis of this blog post is on.
18/10 stainless steel flatware and 18/0 stainless steel flatware is made up of Chromium and Nickel. The "18" number refers to the percentage of Chromium in the stainless steel flatware. Chromium is a strong durable metal that resists stains, rust and corrosion. The "10" or "0" number is the percentage of nickel in the flatware. Nickel is a corrosion resistant metal that is very expensive and often used for its shine and luster. For casual restaurants or high volume events / restaurants, choosing an 18/0 cutlery will work well with its soft sheen and economic value. Higher end fine dining restaurants or rental companies who service a luxury clientele will be happier with 18/10 flatware for its high shine and stain resistance. Below outlines some of the pros and cons of each flatware type.
18/10 Flatware
High polish finish
Superior rust resistant qualities
Highest durability
Easy to maintain
More costly than 18/0 due to nickel
Stain resistant
Dishwasher safe
18/0 flatware
Softer shine
Prone to staining
Less expensive due to the lack of nickel in it
Most still possess durability for everyday use
Dishwasher safe
Hopefully this blog post helps you understand and determine what metal composition you'd like for your business.