Now that we have wood cruiser tables back in stock, we thought it would be a great time to compare them to our plastic folding cocktail tables. Both of them are available in bar height and table height, but that's where the similarities end. If you're looking at getting into the cocktail table market, you may not be sure which way you should go. We'll try to make the decision easier on why choose wood cruiser tables over plastic folding cocktail tables or vice versa.
Plastic Folding Cocktail Tables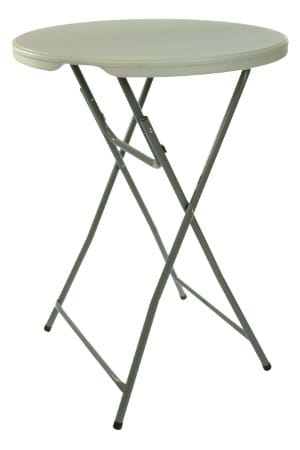 No assembly required
Minimal set-up time
Easily folds away when event is over
Only one piece; no parts to go missing
More weather resistant than wood cocktail table
Table feet do not allow levelling on uneven ground
Doesn't have the traditional shape in spandex table covers
Only Available in one size (32") and one shape (round)
Wood Cruiser Tables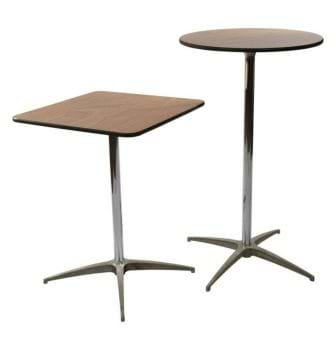 Traditional shape looks outstanding under spandex
Available in 3 sizes (24", 30", 36") and 2 shapes (round and square)
New parts can be bought if pieces are damaged or lost
By swapping pole, table can go from table height to bar height rather than needing to buy another table
Assembly required (Screwdriver Required)
Not as weather resistant. Table top will separate if exposed to the elements long term
Pieces can be lost or stolen because it comes apart into separate pieces
More labour intensive due to assembly time and the need to level tables
If you're looking for an easy to handle table, and are less worried about the aesthetics of what it looks like under spandex, you'll probably find the plastic folding cocktail table more to your liking. If aesthetic are important or you like being able to change things up size, shape, and height wise, you might find the wood cocktail table more to your liking.
If you're interested in a quote for our wood cruiser tables or our plastic folding cocktail tables: