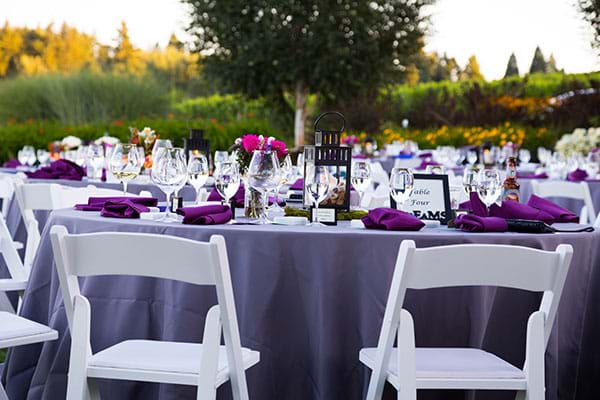 Tables and chairs are a very important foundation almost any event uses. Finding a supplier of wholesale tables and chairs for events that are of great commercial quality while still being good value for the product can be a challenge. Oftentimes party rental companies and event venues are also looking for larger quantities (think bulk folding chairs, bulk dinnerware etc) than a traditional retail supplier can handle at any one location. That's why there are event equipment sales companies that exist in the industry – to provide large quantities of commercial quality products to the special event rentals industry. To help you with your search, here are the North American event equipment sales companies broken down by country:
Canada
Canada Chair –Located in Toronto, Ontario, Canada Chair offers quality commercial chairs, tables and other furniture products to institutions across Canada. They've been in business since 1955 and specialize in stackable and folding chairs, folding tables and carts.
Just in Time Tables & Chairs – Located in Aurora, Ontario, Just in Time Tables & Chairs was established in 2003 to provide carefully selected quality tables and chairs for banquet facilities, hotels and churches. They service the Greater Toronto Area (GTA) with a wide selection of tables, chairs, transport carts and other related products.
Special Events Sales – Located in Edmonton, Alberta, Special Event Sales, the event equipment sales division of Special Event Rentals, offers sale inventory of chairs, tables, dance floors, RaceDeck floors, barbeques, linens, tradeshow equipment, concession equipment, catering equipment, and stanchions and ropes. They offer both new and used sale equipment to help meet all customer needs.
United States of America
Event Décor Direct – Headquartered in Deerfield Beach, FL, Event Décor Direct have been involved in the event and wedding decor industry since 1988 and we bring nearly 25 years of industry experience to their products and services. They do not offer cheap trinkets and junk as their products are "field tested" and are designed for the rigors of commercial use. They offer wood folding tables and event chairs shipped to throughout the US and to Canada with no duties or brokerage.
Event Equipment Sales – Founded in 1993 and located just outside of Chicago, Illinois, EES was established out of necessity to help support their growing rental operation, then known as Chicago Party Rental (it was eventually sold). Their goal is to help clients create the most dynamic events by supplying innovative, reliable and competitively priced portable event products.
Global Event Supply – Located in Fontana, California with a warehouse in Miami Florida, they are a direct importer of all styles of tables, chairs and equipment for the party, event and hospitality industry. They ship throughout the United States and Canada and offer very competitive pricing.
McCourt Manufacturing – Located in Fort Smith, Arkansas, McCourt Manufacturing produces stackable folding chairs, stackable stationary chairs, plywood folding tables, and other event products. Their primary market is the rental industry, but we also supply the hospitality, school and church markets, as well as individuals and commercial businesses.
Midas Event Supply – Located in Ontario, California with a Canadian arm in Mississauga, ON, Midas Event Supply sells a selection of wholesale party rental supplies including; wood folding chairs, Chivari chairs (Chiavari chairs), banquet tables, resin folding chairs, cocktail tables, table linens and event accessories.
Palmer Snyder Furniture – Palmer Snyder is an American manufacturer and distributor of commercial portable furniture, specializing in products that excel in portability, stackability and storability. Our product line consists of many varieties of folding tables and portable seating, plus portable dance floor, lecterns and beverage service stations. They manufacture and distribute from their factory in Conneautville, Pennsylvania. Other major locations include corporate headquarters in Milwaukee, Wisconsin and sales office in Louisville, Kentucky.
P.R.E. Sales Inc – Located in San Diego, California, with a secondary warehouse in Moonachie, New Jersey, PRE Sales sells products including a wide variety of folding chairs, stacking chairs, Chiavari ballroom chairs, banquet chairs, wood tables with folding legs, plastic tables, cocktail tables with pedestal-style bases, market umbrellas, bar stools, chairs, table dollies and much more.
Richwood Imports – Based in Ontario, California with a warehouse in Memphis Tennessee, Richwood Imports has been serving the special event industry since 1994 offering wholesale event chairs & cushions, tables, chair and table dollies, dinnerware, glassware and more.
Tent and Table – Based in Buffalo, New York, for over 25 years Tent and Table has been in business setting up, delivering, and supplying commercial grade bounce houses and equipment. They also offer a variety of wedding tents, which include pole tents and frame tents with banquet chairs and banquet tables.
With warehouses in Mississauga, Ontario, Brampton, Ontario and Vancouver British Columbia, National Event Supply is a wholesale supplier of event equipment to the party rental, event venue, golf course, hotel, catering and restaurant industries. With informal in-house testing (along with BIFMA standards and manufacturer standards) to our banquet tables and event chairs, we're on a mission to not only have stock whenever a rental company needs it, but also have superior commercial grade products for our customers to trust their business reputation on.
To request a custom quote including shipping of our wholesale banquet tables or event chairs: