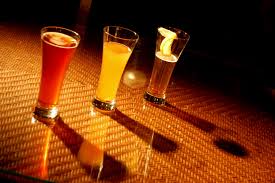 Pilsner glasses are a staple for almost all restaurants, pubs and banquet halls that serve a great pilsner lager. They help to reveal the colour, carbonation of a nice pale lager while maintaining the beer head. They're tall, slender and tapered in appearance and often smaller than a pint (16 fl oz/ 473mL) glass – between 200mL (6.7 fl oz) to 400mL (13.5 fl oz). If you've already been buying pilsner glasses then this post isn't really for you – unless you're not happy with your current supplier. If you're in the market to purchase pilsner glasses, one of the most common things ask is where to buy pilsner glasses in Canada?
This post will round up 4 other suppliers besides National Event Supply, who also sell pilsner glasses in Canada.
1. Canadian Restaurant Supply
Based in Kelowna, British Columbia, and founded in 2000, Canadian Restaurant Supply offers commercial foodservice facility planning & design services as well as meeting the day to day equipment, smallware and tableware requirements. They sell Arcoroc®, Libbey® and Strahl® pilsner glasses ranging in volume from 10oz to 14oz.
2. ChefBlock.com (Hamilton Store Fixtures)
Based in Hamilton, Ontario, Chefblock.com is Hamilton Store Fixtures online ecommerce site, selling tableware, bar supplies, equipment, sanitation & safety, and smallwares for more than 80 years. They sell Libbey pilsner glasses in 10.5oz to 15.5oz volumes.
3. Nella Cutlery
Synonymous with restaurant supply in Toronto, Nella Cutlery has two locations serving the greater Toronto Area with food equipment, refrigeration, bar equipment, material handling & storage, espresso machines, smallwares and knives with knife service. They sell Winco pilsner glasses in 12oz or 23oz volumes.
4. Hendrix Restaurant Equipment & Supply
Based in Brockville, Ontario with 10 locations across Canada, Hendrix Restaurant Equipment and Supply sells foodservice equipment, food prep, smallwares, chef knives, tabletop & serving, worktables & shelving, sinks & plumbing, furniture & fixtures, storage & transport, cleaning supplies, textiles & apparel both in their brick and mortar locations as well as online. Hendrix specifically sells Libbey pilsner glasses in 6oz, 10oz, 12oz and 15oz volumes.
Hopefully one of these companies (if not us!) can help you find the pilsner glasses you need.