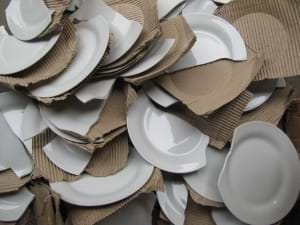 Like most warranties, all chip warranties are not made equally; each warranty is different depending on the manufacturer. For example some manufacturers provide a 1 year warranty while others provide 5 or more years for their warranty. With that said however most of the warranties have common terms and conditions that need to be followed for them to be honoured by the manufacturer.
Here are some things that you need to know:
Only select lines or items may be covered by the warranty (varies by Manufacturer). As a result you should check to find out which items you are purchasing are covered by the warranty prior to finalizing your order.
As the warranty name implies, they only cover chips, they do not cover any other kinds of damage.
It may not cover chips/cracking/breakage of handles or knobs on jugs, teapots/coffeepots, and mugs. As well as chips/cracking/breakage on spouts of pots or jugs.
The warranty will only cover use in food service applications such as washing, preparation, serving, and refrigeration. As a result if the item is going to be used in more extreme conditions, these will not be covered under the warranty.
The warranty is only valid for the original purchaser of the item.
Generally a registration form must be filled out at the time of purchase (or soon thereafter) for the warranty to be validated.
The manufacturer or chosen representative reserves the right to a site visit should they deem it necessary. This may occur if you are experiencing higher than expected breakage. If the site visit reveals poor treatment/mishandling, warranty may be void.
The warranty is location specific; as a result if the items travel to other locations the warranty may be void.
All chipped pieces must be retained by the customer and returned to the manufacturer (or their representative) for inspection.
Finally most have a clause that reserves the right of the manufacturer to void any warranty for any reason.
To fully understand the warranty on the porcelain products that you are purchasing, we encourage you to ask your manufacturer or their chosen representative for details as each warranty does differ. If part of the warranty is unclear to you make sure that you ask questions about it.
National Event Supply does not offer any chip warranty on our porcelain products. We take great strides to ensure our commercially designated porcelain products are of durable quality and not easily breakable given the target market we sell to however we also understand that porcelain by nature is a breakable material. Companies that do offer such a warranty on an inherently breakable product like porcelain must charge extra per dish to cover the percentage of dishware they believe will chip in their given warranty period. As a result this costs you the buyer extra whether you have a plate chip or not. Because we don't offer a warranty, we can provide you with the best value possible – in some cases costing up to 50% less than standard porcelain suppliers. If you're interested in viewing the porcelain dishes we have available, their specifications and pricing, download a copy of the National Event Supply Dinnerware Catalogue!