Recently, I went out to dinner with a group of friends at a local restaurant/pub. They had great beer and the food was delicious. One of the dishes we ordered was a plate of Yorkshire puddings filled with Guinness-braised boneless beef short ribs and topped with white cheddar cheese. It came on a very familiar white plate, and when we finished our appetizer, I had to flip it over to see if it was one of our 6" x 12" rectangular platters. It wasn't. It was an Oneida platter, and I filed the information away, so that I could tell the sales rep.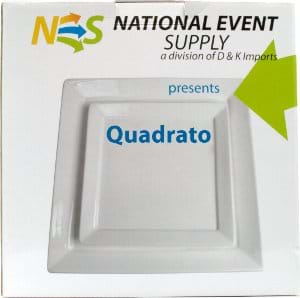 Earlier this week, one of our inside sales reps got a phone call from a high-end restaurant in the Toronto area who had found us online. He had seen our A0961 6" x 12" Rectangular Platters and wanted to know how much we sold them for. The caller was stunned when he found out the platter was only $5.75/ea. He had been buying an Oneida plate that was the same size for over $30.00/ea from Gordon Food Services.
Why was our plate so cheap? Was it because we use inferior materials or processes? Nope, our commercial-grade porcelain is highly vitrified and manufactured to the same standards as the porcelain from the Gordon Food Services. Was it because we're blowing them out because we will no longer be bringing them in? Nope, they've been a good seller since we started selling them. Our plates are $5.75 because we sell factory direct while the Gordon Food Services is a distributor. Like Jonathan wrote in his blog post about 6-ft plastic tables, with the $30.00 plates you're paying for the brand name and the multiple levels of the distribution chain.
Another reason that the plate was over $30.00? The restaurant supply house was charging a premium for a smaller order quantity. Purchasing a new line of dishes can be a major investment. Restaurant supply houses are liable to provide a big discount on a large initial purchase of dinnerware because they know that they'll be able to make up the profits on replacements orders. While the restaurant supply house is willing to give you 50% off on your initial order, they won't be interested in providing any discount when you go to order a dozen replacement dinner plates. We, however, sell our porcelain at the same price whether you're buying 1 plate or 1000.
After taking a look at a sample of our rectangular platter, the customer who had been paying over $30.00 is now paying only $5.75. We know that samples can make the sale and that's why we've put together a sample set of our Quadrato Dinnerware. The sample set comes with a dinner plate, a dessert plate, and with our new stacking mug. If you're interested in getting a sample set for yourself, just ask for a custom quote!