A few months ago we introduced our new Serenity line of Crystal Stemware. This line of crystal wine glasses has been selling very well, and has proven to be very popular with a number of our restaurant and party rental customers. Several customers have purchased large quantities of the 22 oz and 19 oz crystal wine glasses along with the matching 7 oz Champagne Flutes. The feedback so far from our Customers is their purchases have been performing very well.
Today, we are excited to introduce our New Eclisse and Copa Lines of Glass Stemware. These everyday value lines of red wine glasses, white wine glasses, champagne flutes, water goblets, and beer glasses are perfect for any event or table setting.
Eclisse Glassware
The initial pieces we are carrying in our Eclisse line of Glass Stemware are as follows:
7 oz White Wine Glass
10 oz Red or White Wine Glass
12 oz Red Wine Glass
12 oz Beer Glass
14 oz Beer Glass
5 oz Champagne Flute
11 oz Water Glass
Pricing for the Eclisse line of glass stemware ranges from $1.35/ea for the 7 oz white wine glass to $1.90/ea for the 12 oz red wine glass.
Copa Stemware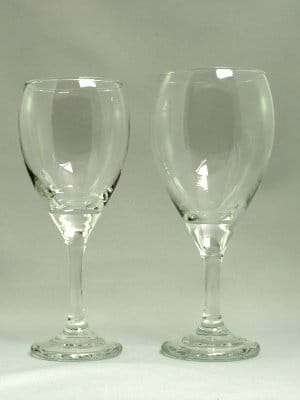 The initial pieces we are carrying in our Copa line of glass stemware are as follows:
9 oz White Wine Glass
12 oz Red Wine Glass
Pricing for both wine glasses in the Copa line are $1.95/ea.
Over time we hope to expand the offerings in both the Eclisse and Copa line of glass stemware to include more variety in the shapes and sizes of wine glasses, beer, and water glasses as well as highball and old fashioned glasses.
Many of our commercial customers regularly purchase the leading brands Arcoroc or Libbey glassware and often pay anywhere from $4.00 to as high as $6.00 for a wine glass. By offering our Eclisse and Copa Glassware all for prices under $2.00 a glass we are providing our commercial customers with the opportunity to dramatically reduce their purchasing costs while offering great selection and durability. For sizing and pricing information check out our website.
If you are interested in obtaining samples of our Eclisse or Copa glass stemware (or our Serenity Crystal Stemware), please feel free to contact us and we would be pleased to send you some sample glasses.