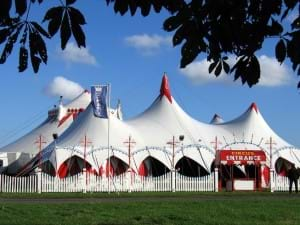 There are many events especially in Canada that may opt to be outdoors and want the assurance that regardless of the weather, their event can continue as planned. Because of this, tent rentals are vastly popular – especially in climates such as ours that experience different changes in season, weather and temperature. If you're in the market to purchase tents – whether they be pop up tents or portable fabric structures knowing the best tent manufacturers to look into can help get a head start on your research and due diligence.
The Best Tent Manufacturers in Canada
Located in Calgary, Alberta, WSSL was founded in 1970 by Kurt Ehrich Warner, and Gery Warner. WSSL has designed and manufactured quality award winning tents and fabric clad portable structures for over 40 years. WSSL specializes in Peak Marquee Tents, Peak Pole Tents, Twin Peak Pole Tents, Arabesque Tent & Joining System, Dome Stagecover, Tent-X-Span Fabric Structures, MOD Series Tents, and GIGA-SPAN Structures. They also welcome the opportunity to manufacture custom & specialty tents.
Located Vancouver, British Columbia, Tentnology was originally established by Gery Warner as Warner Shelter Corp. In 1990, a share exchange took place and Gery Warner separated from Warner Shelter Systems and has been independent ever since. Tentnology has continued to develop, and innovate new, and original patented fabric structures and event tents, and is a world leader in the portable shelter industry. They specialize in manufacturing Matrix-Marquee tents, SaddleSpan tents, Mega tents, Poleadion tents, Bumbershoot & Preso tents, TSpan tents, Tranpeze Tents, and Uni Slope tents.
Located in Delta, BC Ideal Canopy was founded by Rajbir Jhand in the fall of 1996. In the beginning, he operated the company with a single employee assisting in the fabrication of a variety of camping supplies in the back of a small suburban Vancouver workshop. After 13 years of attention to detail Ideal Canopy employs a staff of more than 20+ people to build North America's finest engineered temporary tents and shelters. Ideal Canopy specializes in Marquee Tents, Megaframe Tents, Single Arch Structures, Web Truss Structures and Side Access Shelters.
With their manufacturing arm located in Montreal, Quebec, David Murray, current president of Fiesta Tents Ltd., founded Portable Stalling Inc., in 1977 which supplied tents and horse stalls for horse shows throughout Quebec and Ontario. As a result for frequent requests for event tents, the company expanded its business in 1982 to include party tents and changed their name to Tents for Events. In 1992 after the acquisition of another tent company they rebranded to Fiesta Tents Ltd. They are leading tent manufacturers of marquees, clear span tent structures and canopies for all types of functions. We offer models ranging from small 10' x 10' marquee tents to expandable 60'-wide clear span tent structures.
Located in Sussex, New Brunswick, Commercial Tent has been in the tent manufacturing business for over 25 years. They offer full customization services for all new tents allowing you the ability to create the size and colour needed on their different styles of tents. They also offer high-quality used tent options for sale and offer full warranty coverage on all new and used tents.
Impact Canopies Canada Inc, formally called Caravan Canopies Canada Inc was formed in 1999. They have a 10 year history of manufacturing and distributing all qualities and styles of Pop Up Canopies and Pop Up Canopy Accessories. To expand into the US and global market, in 2006 Impact Images Inc, based in California was formed to manufacture and distribute Instant Canopies and Instant Canopy Accessories. Today, they have a wide range of shapes and styles of pop up tents including domes and marquees, as well as marketing equipment such as flags, signs and banners.