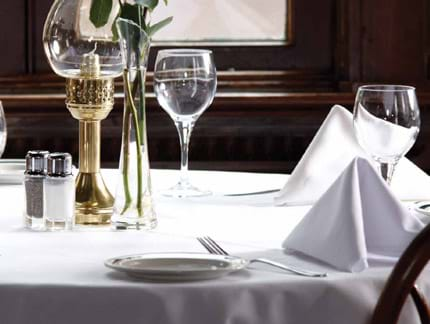 Restaurants have limited space and better things to do with their time then to stain remove and wash their restaurant linens. That's where a restaurant linen service comes into play. Having a restaurant linen rental service able to drop off the linens you need on a weekly basis helps ensure your front of house is looking its best. We like to be considered a trusted partner and because of this we're interested in providing business value to our customers. While we don't personally rent linens or provide restaurant laundry services, we do sell high-quality tabletop supplies to the hospitality sector across Canada – so we know a thing or two about the category. We've crowdsourced the best restaurant linen supply so you don't have to do that work – and you know it's coming from an unbiased source. Check out the best below:
Canadian Linen and Uniform Service
Headquartered in Toronto, ON, Canadian Linen and Uniform service is one of the largest uniform and linen supply companies in North America. They operate more than 115 production facilities and service centers throughout the US and Canada and service nearly 150,000 customers every week. They service the hospitality, automotive and manufacturing industries. One of the more flexible suppliers out there, they offer full service rental, flex lease and purchase of restaurant linens. They offer customizations, and laundering, repairs and upgrades.
Faster Linens
Headquartered in Etobicoke, ON, Faster Linens is a family owned business who can offer a cost effective solution to your needs. They offer consistent quality, special order tablecloths in a variety of styles and colours, and also offer uniforms, mats, napkins and kitchen towels. Their customer service representatives meet with each client on an individual basis to establish an inventory number, pick-up and delivery schedule that is best suited to a restaurant's operating requirements.
Cintas
Headquartered in Cincinnati, OH, Cintas is a global company operating more than 430 facilities in North America, Europe, Latin America and Asia, including six manufacturing plants and nine distribution centres. Some of their more well-known customers include McDonalds, W Hotels and Royal Caribbean Cruise Lines. They provide a multitude of services including restroom supply and cleaning, floor mat cleaning and supply, towel cleaning and supply, uniform supply etc.