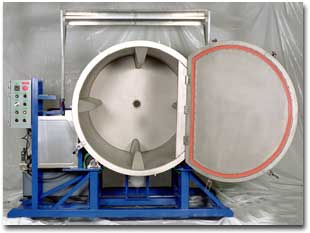 Photo Credit: Great American Tent & Party
Party tents is of utmost importance to an event rental company. Not only do they extend a typical event season to include spring and fall – but they also can mean enormous revenue potential for an event rental company. Party tents are not inexpensive though and with investments for these event staples soaring into the hundred-thousand's, it is of even greater importance to ensure the tents are well maintained. We like to be considered a trusted partner and because of this we're interested in providing business value to our customers. While we don't personally sell tents or tent washing machines, we do sell high-quality event equipment to the event rental sector across Canada – so we know a thing or two about the category. While there are some party rental companies that use large commercial washing machines or choose to get their employees to scrub the tents manually, there exists on the market automatic party tent washing machines. They're like commercial washing machines on steroids! We've crowdsourced the best party tent washing machines so you don't have to do that work – and you know it's coming from an unbiased source. Check out the best below:
Based in Missouri, Teeco is the industry leader in tent washing machines. They started as a tent rental originally so they understand the pain points that exist with getting tents clean. Their machines designed to wash both sides of large sections of material regardless of shape, and can completely clean webbing and straps. Cycle times range from 20 minutes to 1 hr depending on the dirtiness of the tent being washed. It gives uninterrupted time to re-deploy your labour to work on other tasks while the machines do the heavy lifting. They sell 5 models that wash from up to 900 square feet to up to 5000 square feet. They also have a 3 part guarantee – 1) if you use the machine for 90 days and can't see an improvement, they will provide a 100% refund 2) if you have the machine for a year and want to trade up, they guarantee 100% trade in value and 3) if you have a part within 5 years that fails, they'll replace the part for free.
CCC Tent Washers Inc is a division of Charnecke Tents that has been in business since 1929. They are a tent manufacturing and rental company. They have 3 separate tent washer models – with a range in capacity from up to 1000 square feet to up to 3000 square feet. Each model includes both an automatic or manual setting so you can wash your tent quickly or as little or as long as you like depending on how dirty your tent is. The washers feature dual 250 gallon water tanks allowing the reuse of water to reduce spending and cut down on waste. The BK1000 and BK2000 are both portable for added convenience. All units can be wired for either a single phase service, or a 3 phase service. No additional hook up is needed.