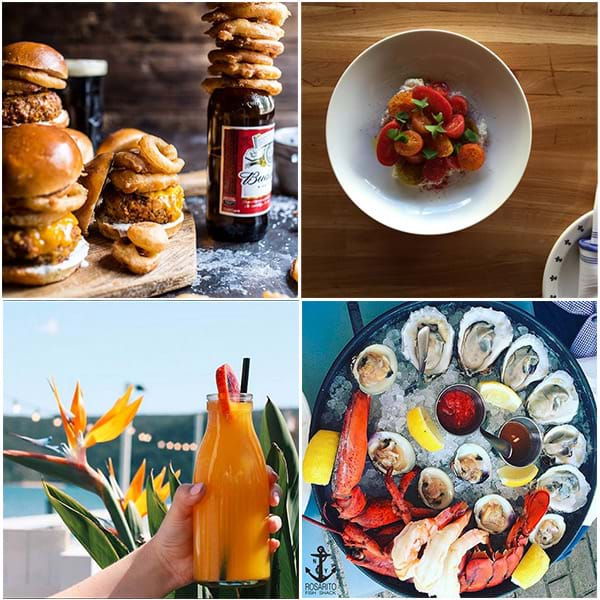 Photo source (clockwise from top left): @halfbakedharvest / @forequarter / @rosaritofish / @thebeachhousepb
I think we can all agree that when you are looking at places to eat, the restaurant's that draw you in are the ones with beautifully plated and photographed dishes. While it definitely takes practice to achieve a gorgeous photo, we thankfully live in an age where all the tools needed are at our fingertips. Not only can you take some pretty spectacular pictures nowadays with just your smartphone and a few apps, you also have the ability to look up other food blogs and restaurants for food photography inspiration. As a foodservice operator, it's in your best interest to upgrade your food photography skills to help market your restaurant. I stumbled across some fantastic food photography classes while looking to take a class to expand my hobbies – and thought them worth sharing with you. All of them are online classes.
Skillshare is an online learning community for creators. You can take classes in design, photography, business, technology, culinary, etc. It is $10.00/month to sign up or you can pay for a yearly membership for $8.00/month. There is also a 14 day free trial. In this 30-minute class, Daniel Krieger, a freelance food photographer teaches how he styles food as well as how he photographs food. The video lesson covers gear, ordering, shooting in daylight, and the images that make his portfolio stand out.
CreativeLive is another online learning community who brings the world's greatest experts directly to you. They host live and taped online workshops. This class is $129.00 USD. This class is a really comprehensive online course with 44 videos taught by notable food photographers Diane Cu and Todd Porter. You'll learn how to use natural light for photography as well as how to style food to share a believable and fresh looking dish. When you're done with this course, you'll be armed with the technical skills necessary to capture your restaurant's essence.
This class is $129.00 USD and taught by world-renowned commercial photographer, stylist, and NY Times columnist Andrew Scrivani. This 3-day class (that you can do at your own pace) is said to be great for students of all levels and will introduce essential food styling techniques, the photography gear required, different shooting styles and post-production processes to make your food photos really pop.
If the first three courses aren't comprehensive enough for you there's always the food photography school. This is a school comprising 130+ videos that have been organized into 14 courses including equipment, natural and artificial lighting, photo composition, styling a shot, angles, editing and sharing your photos. For $99 you get lifetime access to the videos and so much more.