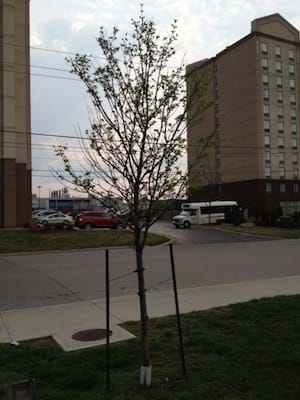 It's hard to believe, but 2013 is now 1/3 over. All across Canada, snow is melting, grass is growing, trees are budding, and everyone is getting ready for the busy summer season. We're in the middle of our busy spring season. New products and stock are arriving every week and orders are going out our doors just as fast. Although we try to keep things in stock, sometimes we run out of chairs in a certain colour, or we run low on tables. It's always better to get your orders in early to avoid disappointing your customers.
Return of the PST
For the past 30 days we've been adjusting to the dissolution of the HST in BC and the return of the PST. In the past, we haven't had facilities in BC and didn't have to worry about collecting the PST. Now that we have a warehouse in Vancouver, we need to charge our BC customers the GST and the PST. However, you purchases may be PST exempt under the BC tax code. If you are PST exempt, just let our sales staff know. If you provide your BC Tax ID, we can set you up in our systems so that you only pay the GST. If you have any questions about the PST exemption, please don't hesitate to ask.
New in Vancouver
In the past two weeks, a couple of containers have arrived at our Vancouver warehouse. We were happy to receive the first container as it replenished our stock of White Resin Folding Chairs. We've been selling this chair for over five years, and every year we've set sales records. It's always incredibly difficult to keep White Resin Folding Chairs in stock in spring, and this year is no different.
We also received a new variation of our always popular NES Reliable Plastic Folding Chair— Wedding White on White. We've had numerous requests for the Wedding White chairs over the past few months, and we've finally been able to bring them in. These chairs are a brighter white, similar to the colour of the White Resin Folding Chairs as opposed to the cream colour of our existing white on white chairs. The Wedding White on White NES Reliable Plastic Folding Chairs are currently in stock in Vancouver and will be available in our Toronto Warehouse in early May.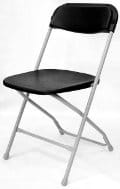 New in Toronto
Our Toronto Warehouse also received a new variation of our NES Reliable Plastic Folding Chair. Available in limited quantities, we are happy to announce the return of our Black on Grey NES Reliable Plastic Folding Chair. The last time we sold this colour combination, it was due to a shipping error at our factory. This time we're intentionally stocking the colour combination!
We're going to be getting additional products in to both of our warehouses within the next month. To find out what has arrived in our warehouse, why not join our mailing list? It's free and I promise we won't email you constantly!