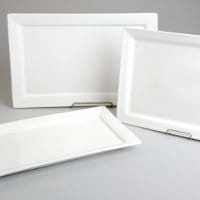 With any company dealing in the foodservice industry – whether it be catering, banquet halls, golf courses, restaurants trying different plating options, hotels with meeting space or party rental companies – picking the right platters for food presentation is important. You want to ensure you're presenting aesthetically pleasing food while ensuring your inventory / material costs for the platters doesn't affect your bottom line. Add in the breakage, potential stacking or transporting issues and it can be a bit overwhelming.
This article presents an easy to view list of the pros and cons of melamine platters vs. porcelain platters.
Durable
Break resistant
Can scratch with use of sharp objects on the surface (like knives)
Commercial dishwasher safe
Lightweight
Can withstand temperatures from 32°F to 220°F (0°C to 120°C) – ruling out baking / food preparation in them
Non-microwavable
Potential long term health risks (jury still out)
Easy to stack
More expensive to purchase due to material cost
Durable
Breakage occurs more frequently due to the nature of the material
Scratch resistant
Commercial dishwasher safe
Heavy in comparison to melamine
Oven safe to 400°F
Microwave safe (unless porcelain contains metal detailing)
Can become cumbersome to stack
Less expensive to purchase than Melamine
Can look better longer
As you can see, porcelain platters and melamine platters both have their place at a buffet or party; neither one can be ruled out as "better" than the other – it generally comes down to how the purchaser plans to utilize the platter and personal preference.