A few years ago we brought in solid wood harvest tables to compliment the rustic wedding trend along with adding cross back chairs to satisfy the chair component of the trend. These harvest tables were so popular this year that we had a hard time keeping them in stock. Their unfortunate downfall is they don't have folding legs. They do have removable legs, however, this can be hard for party rental companies as there is no clips underneath the table to store the legs – so legs need to be very closely watched so nothing gets lost.
I'm pleased to announce that we now have the ability to special order Wood Harvest Tables with Folding Legs!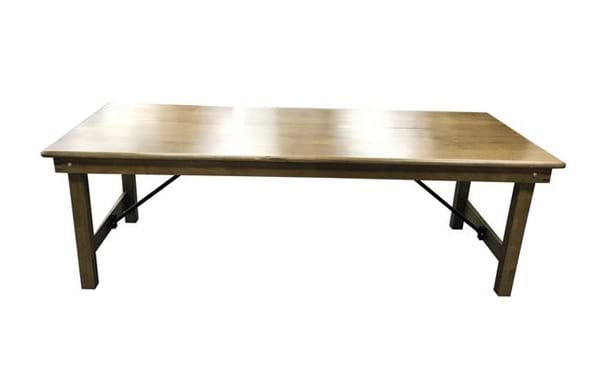 These tables come from our wood table manufacturer whom we routinely receive containers from. Production and lead time is around 45-60 days. The NES 8 foot Harvest Table has been designed to exceed the needs of the party rental industry. They feature a walnut stained 1.5" thick top made from Pine with supports that form a box on the underside of the table.
The legs on the NES 8-ft x 40" Solid Wood Harvest Tables are 2.75" square pieces of solid Pine that fold flat underneath the table.
NES Wood Harvest Tables can be used indoors or outdoors, and are perfect for any organisation that wants a durable rustic wooden folding table.